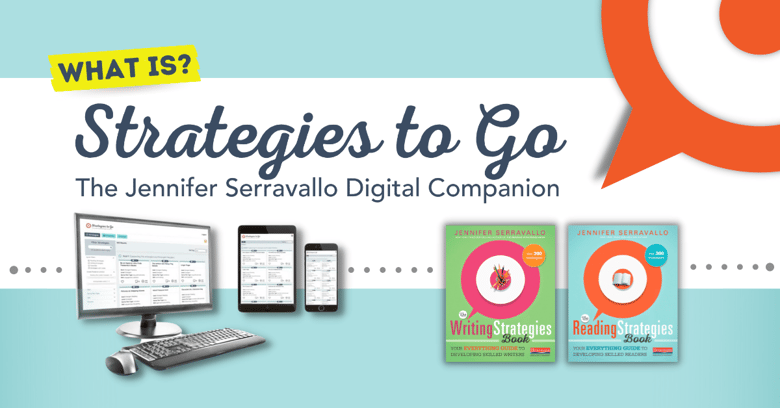 By now, you may have caught some chatter about the new digital companion for the Reading and Writing Strategies books by Jennifer Serravallo. Well, we are excited to officially launch this new app and we have oodles of helpful information to share with you. Read on to get answers to questions such as "What is Strategies to Go?" "What does Strategies to Go do?" "How will Strategies to Go work in my classroom?" and so much more.
What is Strategies to Go: The Jennifer Serravallo Digital Companion?
Strategies to Go is the digital companion to Jennifer Serravallo's Reading and Writing Strategies Books that further streamlines and simplifies literacy instruction. An annual subscription unlocks digital access to the 600 strategies in The Reading Strategies Book and The Writing Strategies Book and a robust notetaking system that allows you to connect strategies to specific children and groups. Better yet, your notes are all handily available to track progress over time. It's an at-your-fingertips companion that supports differentiation and responsive teaching anytime, anywhere.


Here's a Q&A with details.

What does Strategies to Go enable me to do?
Find just-right strategies quickly using filters and sorting functions
Link strategies to students or groups
Take notes on students or groups
Export notes to share with others
Will it work inside my classroom?
Wherever you have internet access, you have Strategies to Go. It works anywhere from your desktop, laptop, tablet, or phone.

How do I match strategies to students with Strategies to Go?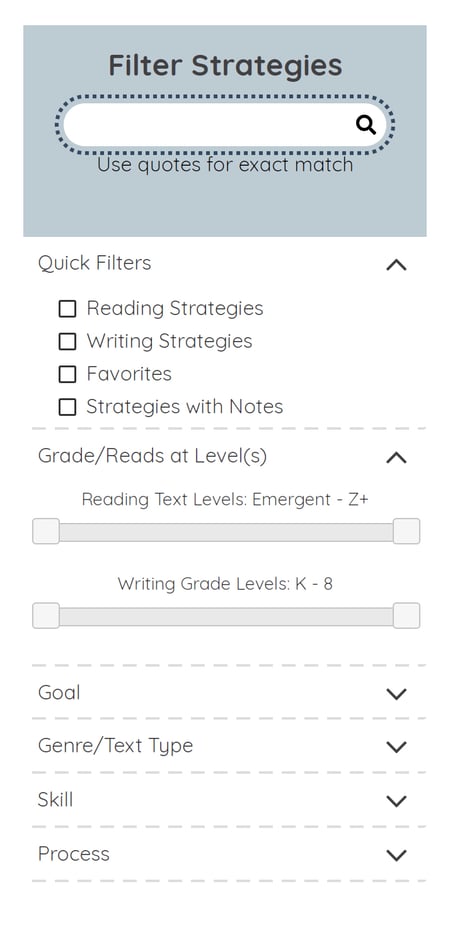 Strategies to Go's search and filter features allow you to customize your searches at a variety of levels:
Keyword
Domain (reading and/or writing)
Text level (reading)
Grade level (writing)
Goal
Skill
Genre
Step in the writing process
Strategies to Go makes it possible to search for reciprocal strategies in reading and writing, simplifying the integration of unit planning.
Thousands of teachers have asked whether the visuals in the Strategies Books are available digitally, and now they are — in Strategies to Go!
What do I do once I find the right strategy?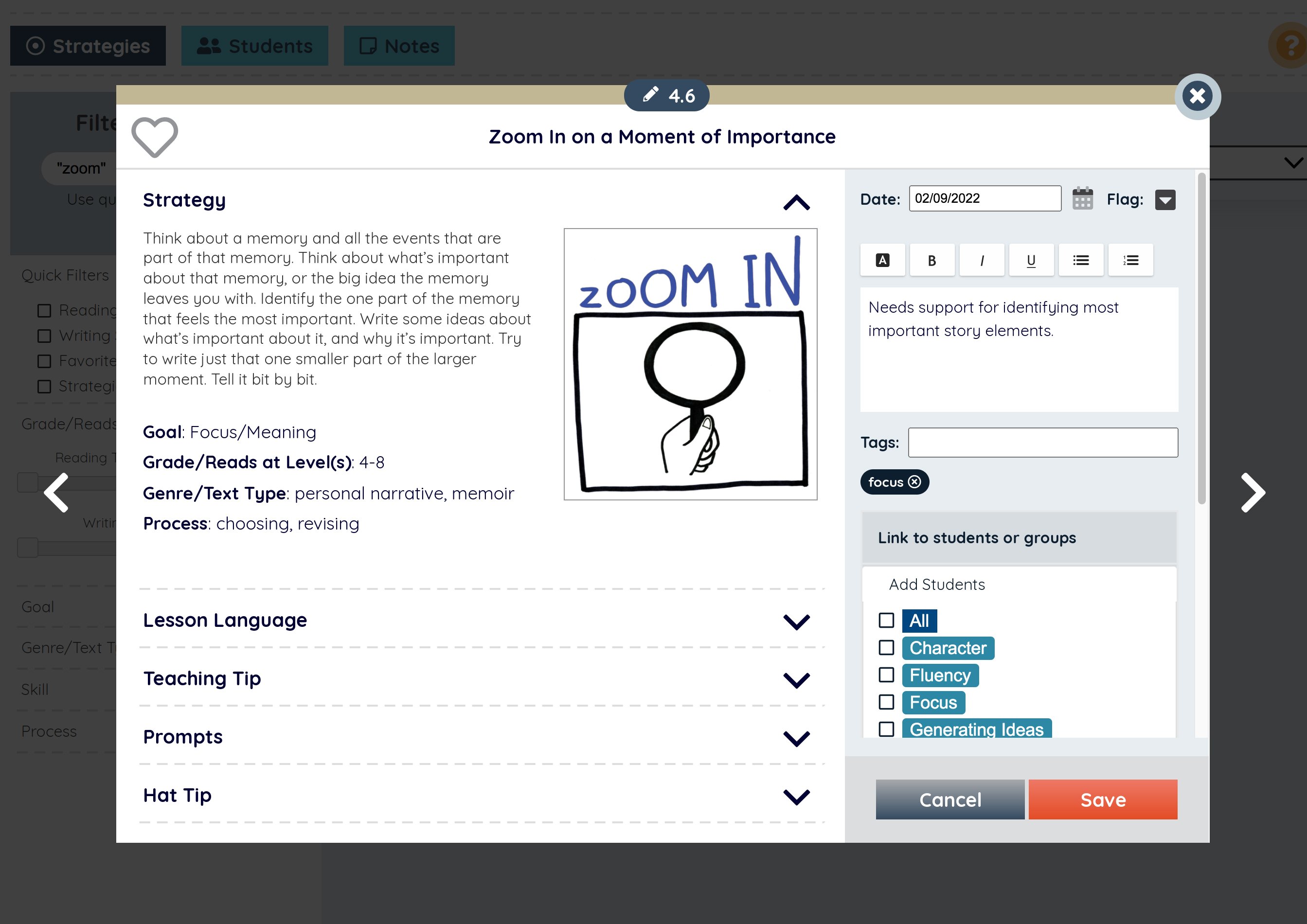 Use it with a student! Utilize Strategies to Go in a small-group lesson or conference just like you would with Jen's books, only without the bulk. Thousands of teachers have asked whether the visuals in the Strategies Books are available digitally, and now they are in Strategies to Go. Enlarge an image on your screen to show a student or use it with your whiteboard to show the whole class.
Once you've entered students into Strategies to Go, you can link a reading and/or writing strategy directly to individual students and groups. Strategies to Go's grouping features let you associate a strategy with a small group. Information flows easily between strategies, students, and groups, so however you connect students and strategies, it'll be viewable in a variety of ways.
If you find a strategy that you know you'll use again, favorite it and use favorites as a search criteria next time you need it. No more flyaway sticky notes!
How does note-taking work?
Once you've added a student to Strategies to Go, start taking notes right away. Notes are date-stamped so you can see progress over time. The intuitive notes editor lets you use color and font attributes just like in a word processing app. Any note you take for a group is automatically attached to a student's individual record. Update students' profile information (their reading or writing goal, text level, etc.), and the information immediately updates in each note. Sort your notes by student, goal, or date. View an individual or group's progress over time or look at the whole class at a glance to spot trends. There's no limit to the uses you'll find for the note-taking feature.
What about sharing my notes?
On a desktop or laptop, Strategies to Go's simple export feature lets you download a file containing your notes for a single student or the whole class. That file opens in any spreadsheet program. Exported notes are great for working with colleagues as well as parents.
What updates are coming?
Although we can't tell you everything that's coming, we can say that during 2022 Strategies to Go will expand to include the 600+ strategies in Jen's El libro de estrategias de lectura and El libro de estrategias de escritura. That will mean access to 1,200+ strategies and new efficiency for teachers of bilingual students and English learners. We will be rolling out new features on a regular basis and will update you by email. By the way, once you've tried Strategies to Go, we want you to suggest features to us that will make it even better. You might just see the feature you suggested in one of our update emails!
How do I learn more or subscribe?
Strategies to Go is available exclusively from Heinemann. If you'd like to learn more, you can visit www.SerravalloStrategies.com to watch a video about Strategies to Go or to click SUBSCRIBE. Or subscribe at Heinemann.com.
We'd love to hear from you. If you have questions or comments, feel free to reach out to us on Twitter, Facebook, or Instagram, or leave your comments below. We also invite you to join the Reading and Writing Strategies Facebook Community, where you can connect with consultants and a community of over 95,000 fellow educators using Jennifer Serravallo's resources. We hope to hear from you!