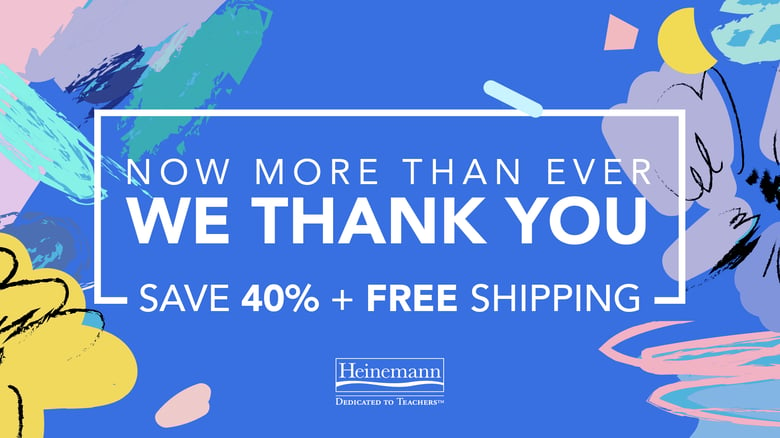 Teacher Appreciation Week is a great reason to kick off a MONTH of savings!

At Heinemann, we are dedicated to teachers. We strive to give voice to those who share our respect for the professionalism and compassion of educators and who support their efforts to help children become literate, empathetic, knowledgeable citizens.

Now more than ever, we thank you for the work you do every day. Use coupon code MAYEDU at Heinemann.com during online checkout to take 40% off the list price of our Professional Books, plus FREE SHIPPING.

We are also offering this discount on select Curricular Resources such as:
There are some restrictions so please see below for complete details.

Click the button to preview professional books or click the bulleted text above to be taken to the select Curricular Resources included in this discount.
Shop Heinemann Professional Books
Teachers make the difference every single day. Follow the hashtag #TeachersMakeTheDifference online and share your inspiring stories about teachers.

Restrictions:

* Use coupon code MAYEDU online only during checkout to receive 40% off the LIST PRICE of select resources indicated on Heinemann.com. Offer valid on online orders only paid by credit card- no purchase orders, phone orders, or faxed orders. Discount limited to Professional Books and select Curricular Resources. Does not include Calkins Classroom Libraries, Fountas & Pinnell Classroom, or other Curricular Resources such as LLI, Benchmark, Units of Study, Complete Comprehension, or Comprehension Toolkit. Limited to stock on hand. Does not apply to eBooks, Audiobooks, preorders, bundles, Professional Development programs, or prior orders. Orders must be received by 11:59 p.m. Eastern Time on Sunday, May 31, 2020. Free shipping by ground, limited to orders shipped in the United States.