A hallmark of being a classroom teacher is that you have to make difficult decisions about how best to spend your students' time. In the younger grades, when direct instruction in phonics is crucial, teachers must face the difficult decision of how to balance time between authentic reading and writing and the rigorous word work students need in order to become better readers and writers.
Because phonics is so essential to students' literacy development in the early grades, an understandable temptation is to prioritize it, and to devote large chunks of time to it. However, no amount of time spent on phonics matters if students are not using what they are learning in their reading and writing. In other words, ten minutes of phonics instruction that promotes transfer is worth infinitely more than forty-five minutes of instruction that students forget the moment the lesson is over.
One powerful way to promote transfer between phonics and students' reading and writing is to engage students in phonics learning and play all day long. A formal phonics lesson might be 10-15 minutes long, but throughout the day, you might engage students in a few minutes here and there of word play, chanting, or singing to solidify the concepts they are learning. You might make-up silly rhymes or ask children to shout out long A words as they line up for lunch. Or, you might invite children to hunt for words that end with silent E as they walk down the hallway for music or art. In creating these moments, in which children get to use what they are learning in ways that seem spontaneous and fun, you can speed up the time it takes students to get tricky concepts into their bones by a multiple.
Due out later this year from Lucy Calkins and her colleagues at the Reading and Writing Project is a comprehensive word study curriculum that will be deeply connected to the Units of Study in both reading and writing. It will form a bridge of sorts between the reading and writing units, and will emphasize transfer directly and explicitly. In each grade-specific unit will be daily teaching plans, along with descriptions of extensions, short lessons designed to be done at any time of day to promote the kind of deep learning that children carry with them, throughout the day and beyond.
Rebecca Cronin and Allyse Bader will lead this week's TCRWP Twitter chat. They are TCRWP staff developers, phonics experts, and, not least importantly, co-authors of the upcoming phonics series. If you teach in the early grades, or if your students could use extra support with phonics and word work, don't miss this chat. You'll leave with an armload of ideas you'll want to put into immediate practice in your classroom.
• • •

Each Wednesday night at 7:30pm eastern, The Teacher's College Reading and Writing Project hosts a Twitter chat using the hashtag #TCRWP. Join @AllyseB09 & @RebeccaCronin2 to chat about supporting students to learn and use phonics tomorrow evening.

Not on Twitter? Take Heinemann's free Twitter for Educators course here.

• • •

"Perfection is achieved, not when there is nothing more to add, but when there is nothing left to take away." - Antoine de Saint-Exupery

---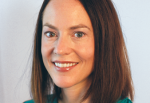 Anna Cockerille, Coauthor of Bringing History to Life(Grade 4) in the Units of Study for Teaching Writing Series, was a teacher and a literacy coach in New York City and in Sydney, Australia, and later became a Staff Developer and Writer at TCRWP. She served as an adjunct instructor in the Literacy Specialist Program at Teachers College, and taught at several TCRWP institutes, including the Content Literacy Institute, where she helped participants bring strong literacy instruction into social studies classrooms. Anna also has been a researcher for Lucy Calkins, contributing especially to Pathways to the Common Core: Accelerating Achievement (Heinemann 2012), and Navigating Nonfiction in the Units of Study for Teaching Reading, Grades 3–5 series (Heinemann 2010). Most recently, Anna served as an editor for the Units of Study for Teaching Reading, K–5 series.