Written by Anna Gratz Cockerille
"I think that many teachers have been subjected to intensive efforts to remake their small-group instruction so that it is 'just so.' There have been so many books written on how to lead small groups in precisely the right ways that too many teachers approach a little hub of readers, gripped by anxiety over doing this The Right Way. Meanwhile, the whole point is to be personal, be responsive, and to channel kids to do some work while you observe and coach."
- Lucy Calkins, in A Guide to the Reading Workshop
Equal to the sense of anxiety that grips teachers when they fear leading small groups in the wrong way is the feeling of relief when they realize that there really isn't a wrong way, as long as their teaching is geared toward kids' needs. What's wonderful about small group instruction is how flexible and agile it can be. It can be as informal as gathering a few readers on the fly after a minlesson, based on your observation that they need some additional support with the teaching point. It can be as formal as a guiding reading lesson, for which you plan carefully and choose just the right texts. Small groups can meet once, or multiple times over a series of days, depending on the students' needs. Some students might rotate out of a group as their needs change, while others remain.
Perhaps most important to remember, when in the throes of anxiety over small group instruction, is that if a small group doesn't go well one day, it isn't the end of the world. There is always tomorrow to recalibrate the instruction, perhaps reshuffle the group members, and try again.
To ensure your small group instruction goes as well as possible, aim for:
A clear purpose for gathering a particular group of readers together. All of the readers must be demonstrating a need in a similar area so that the instruction is targeted toward their needs.
Teaching that is short and clear, with the bulk of the time spent with students reading and the teacher coaching.
Students leaving the group with a sense of what to do next.
Convening the group as many times as needed, as long as the students need help with the skill or strategy.
Flexible groupings. If a student no longer needs what is being taught in a group, they no longer need to be part of the group.
Amanda Hartman and Audra Robb are TCRWP leaders who have led a small group (or a thousand!) in their careers. Join them this Wednesday on Twitter to chat about ways to support K-8 readers in action through small group instruction. Expect to leave the chat feeling more knowledgeable and a whole lot more relaxed about teaching small groups in reading.
Each Wednesday night at 7:30pm eastern, The Teacher's College Reading and Writing Project hosts a Twitter chat using the hashtag #TCRWP. Join @amandalah & @audrakrobb tomorrow evening to chat about small group instruction in reading.
---
Not on Twitter? Take Heinemann's free Twitter for Educators course here.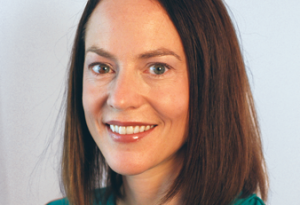 Anna Gratz Cockerille, Coauthor of Bringing History to Life (Grade 4) in the Units of Study for Teaching Writing Series.
Anna was a teacher and a literacy coach in New York City and in Sydney, Australia, and later became a Staff Developer and Writer at TCRWP. She served as an adjunct instructor in the Literacy Specialist Program at Teachers College, and taught at several TCRWP institutes, including the content literacy institute, where she helped participants bring strong literacy instruction into social studies classrooms. Anna also has been a researcher for Lucy Calkins, contributing especially to Pathways to the Common Core: Accelerating Achievement (Heinemann 2012), and Navigating Nonfiction in the Units of Study for Teaching Reading, Grades 3–5 series (Heinemann 2010). Most recently, Anna served as an editor for the Units of Study for Teaching Reading, K–5 series.