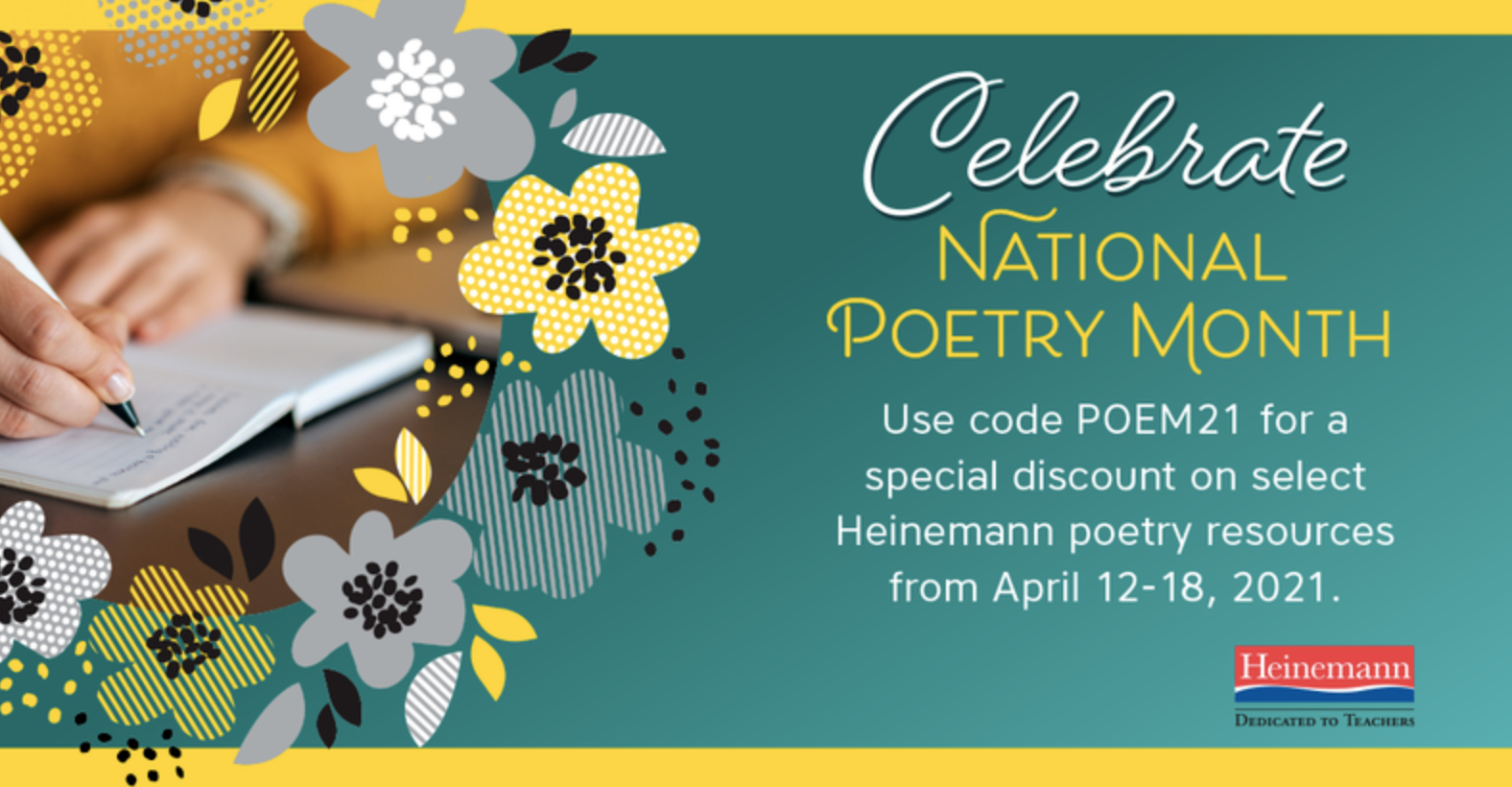 Every year, the month of April is set aside to recognize poets and their craft. To celebrate this special month and this unique genre, Heinemann is offering a special discount on select poetry resources.
Scroll down to view all eligible resources

Use the coupon code POEM21 at online checkout from April 12-18, 2021 to activate this discount. Some restrictions apply. See below for complete details.

Poetry promotes literacy and connections in special ways. It is also a genre that often requires distinct teaching strategies or lessons. Whether you want to use poetry to teach the tools of writing, enhance your reading minilessons, or spark student engagement, you'll find resources from Heinemann to meet your needs.

The following titles are eligible for a 40% discount off their list price when you use the coupon code POEM21 at online checkout: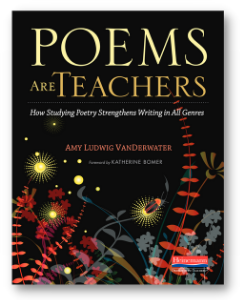 Poems Are Teachers
How Studying Poetry Strengthens Writing in All Genres
By Amy Ludwig VanDerwater
Grade Level: 2nd - 8th
Children's writer and poet Amy Ludwig VanDerwater leads us on an adventure through poetry, pointing out craft elements along the way that students can use to improve all their writing, from idea finding to language play.

---
Words That Sing
By Irene Fountas and Gay Su Pinnell
Words That Sing is an illustrated collection of poems, songs, and rhymes that will fill children with language, ideas, and imagery, which will help them use and enjoy the oral and written word. Enlarged charts make it possible for children to "read" a much more complex text than they could independently, enabling each child—regardless of reading level—to benefit from the many values and goals that poetry brings to the classroom.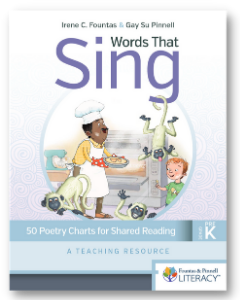 Words That Sing, Pre-K
50 Poetry Charts for Shared Reading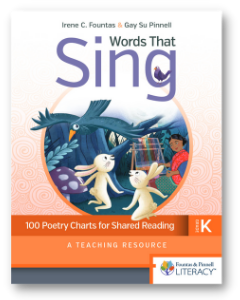 Words That Sing, Kindergarten
100 Poetry Charts for Shared Reading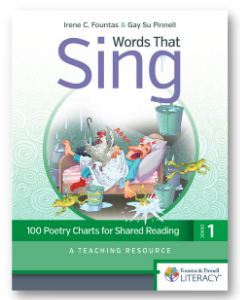 Words That Sing, Grade 1
100 Poetry Charts for Shared Reading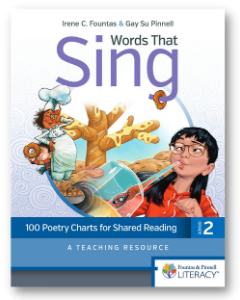 Words That Sing, Grade 2
100 Poetry Charts for Shared Reading

---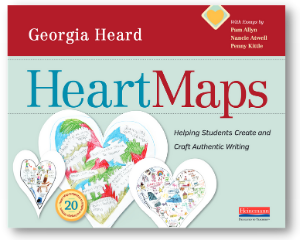 Heart Maps
Helping Students Create and Craft Authentic Writing
By Georgia Heard
Grade Level: Kindergarten - 8th
This book provides 20 unique, multi-genre heart maps to help your students write poetry from the heart. Filled with full-color student heart maps, examples of the resulting writing, along with access to reproducible templates, Heart Maps will be a practical tool for awakening new writing possibilities in your students throughout the year.

---
Sing a Song of Poetry
By Irene Fountas and Gay Su Pinnell
These companions to the Fountas & Pinnell Phonics, Spelling, and Word Study System series use poetry to their full advantage to expand children's oral language capabilities, develop phonological awareness, and teach about the intricacies of print.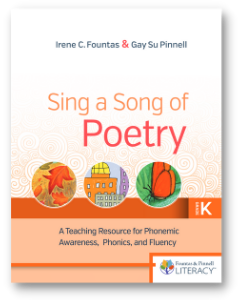 Sing a Song of Poetry, Grade K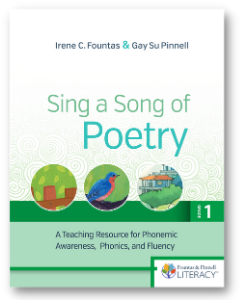 Sing a Song of Poetry, Grade 1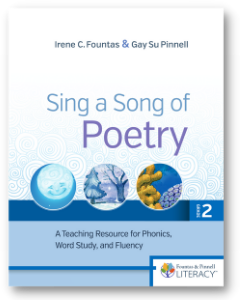 Sing a Song of Poetry, Grade 2

---
Reading Poetry in the Middle Grades
20 Poems and Activities That Meet the Common Core Standards and Cultivate a Passion for Poetry By Paul B. Janeczko. Grade Level: 5th - 9th
This book takes the fear factor out of poetry and shows you how to use this powerful genre to spark student engagement. Step-by-step detailed lessons show how to investigate 20 contemporary and classic poems from the inside out while addressing the standards.

---
Awakening the Heart
Exploring Poetry in Elementary and Middle School
By Georgia Heard
Grade Level: Kindergarten - 8th
Awakening the Heart explores how to cultivate the poet in every elementary and middle school student—through well-drawn examples, detailed exercises, creative projects, and down-to-earth classroom teachings.

---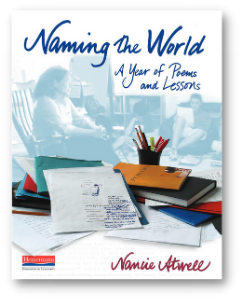 Naming the World
A Year of Poems and Lessons
By Nancie Atwell
Grade Level: 6th - 8th
Empower adolescents to make sense of their personal place in the world while honing their critical reading and writing skills. 200+ poems are accompanied by five-to-ten-minute lessons that are used by Nancie every day to jumpstart her reading and writing workshops.

---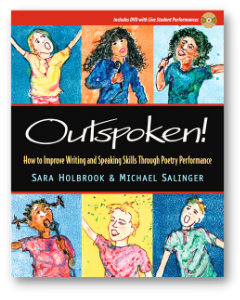 Outspoken!
How to Improve Writing and Speaking Skills Through Poetry Performance
By Michael Salinger, Sara Holbrook
Grade Level: 6th - 12th
Beginning with ideas for encouraging even the most reluctant students to speak clearly and write from the heart, this handbook uses familiar workshop structures to guide young poets toward vibrant completed pieces and an exciting, dynamic delivery!

---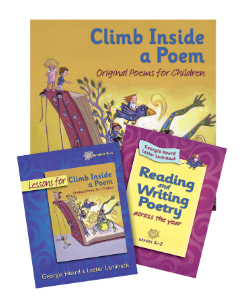 Climb Inside a Poem
Reading and Writing Poetry Across the Year
By Georgia Heard and Lester L. Laminack
Grade Level: Kindergarten - 2nd
Nurture a love of poetry in children. In this ready-to-go resource, the authors demonstrate how reading and writing poetry can support and extend young children's language and literacy development through original poems and related lessons.

---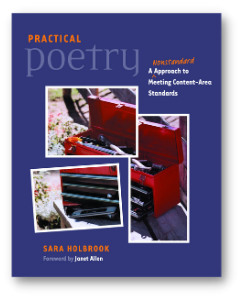 Practical Poetry
A Nonstandard Approach to Meeting Content-Area Standards
By Sara Holbrook
Grade Level: 4th - 8th
Whatever you teach, Practical Poetry includes chapters specially written to show how to promote content understanding and meaning-making in language arts, math, science, and social studies through poetry.

---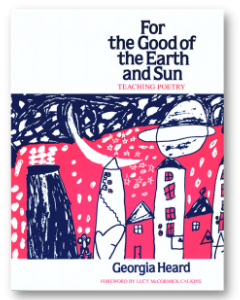 For the Good of the Earth and Sun
Teaching Poetry
By Georgia Heard
Grade Level: Kindergarten - 8th
Georgia Heard's method of teaching poetry respects the creativity of students and teachers and builds upon their uniqueness. She explores poetry from the inside as it is: a powerful and necessary way of looking at the world.

---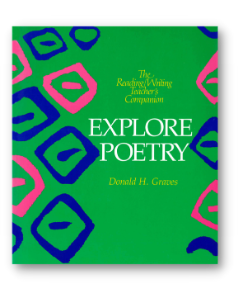 Explore Poetry
By Donald H. Graves
Grade Level: Kindergarten - 5th
This book involves you in both the reading and writing of poetry—for yourself and your students. Experiment with reading poetry aloud, using "found" poems, writing poetry from prose, and acquiring poems through choral speaking.

---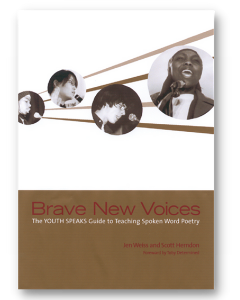 Brave New Voices
The YOUTH SPEAKS Guide to Teaching Spoken Word Poetry
By Scott Herndon and Jen Weiss
Grade Level: 9th - 12th
Brave New Voices provides teachers with a "how-to" guide to staging a teen poetry slam, enabling students to unlock their poetic passion in front of their peers. For all levels of students and developing artists, from the shy to savvy, here is a way to spark a love of poetry.

---
Some restrictions apply. Complete details:
Restrictions apply: Use coupon code POEM21 online only during checkout at Heinemann.com to receive 40% off the LIST PRICE of select poetry resources. Offer valid on online orders only paid by credit card—no purchase orders, phone orders, or faxed orders. Discount limited to select resources only. Does not apply to eBooks, Audiobooks, preorders, bundles, Professional Development programs, or prior orders. Cannot be combined with any other offers. Orders must be received by 11:59 p.m. Eastern Time on Sunday, April 18, 2021.