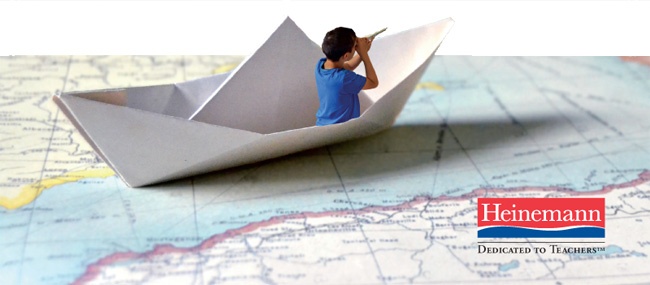 Welcome to the newest installment in our weekly link series on the Heinemann blog! Every week we find around five interesting links for you to take into your much deserved weekend. These links are interviews with educators, posts from our authors' and friends' blogs, and any interesting, newsworthy item from the past seven days. Check back each week for a new round of finds!
⇔ ⇔ ⇔
At the Coach, Actually blog, Christy Curran and Monique Knight wrote about creating a curriculum of change through book selection and a focus on empathy:
We create a kinder world that is in our classroom and beyond. How to do that? Notice how your kids treat one another. When it's kind, take notice. When it's not, take notice. It doesn't need to be with grand gesture, but it needs to be recognized, celebrated in a way. It says, this is what we value, this is what we honor in this class. Of course, the teacher is always the first and best model for this.

Click through to read "Creating a Curriculum of Change."
⇔ ⇔ ⇔
Justin Baeder is the Director of The Principal Center and the host of Principal Center Radio. He interviewed Chris Lehman and Kate Roberts, coauthors of Falling in Love with Close Reading.
Click here to listen to the interview.
⇔ ⇔ ⇔
The in-state tuition break is slowly disappearing, according to Kevin Carey of The New York Times:
Replacing in-state with out-of-state students can be easier than raising prices because tuition increases are highly public and are frequently regulated by state legislatures and governing bodies. Universities often have more discretion over the in-state/out-of-state of mix.

Click through to read the full article.
⇔ ⇔ ⇔
Elizabeth Moore is teaching at the Vermont Reads Institute this summer, and wrote a post about what guided reading is and isn't:
One of the first things we'll be discussing is this: What does guided reading look like in your classroom? Chances are, guided reading looks different in each person's classroom.

Click through to read "Guided Reading: What It Is/What It Is Not."
⇔ ⇔ ⇔
Maia Fastabend reviewed the new edition of Children's Mathematics: Cognitively Guided Instruction for MiddleWeb.
Are you in search of a book that explains students' mathematical thinking? Or often left wondering how your students came up with a wrong answer? Children's Mathematics: Cognitively Guided Instruction is a book that delves into answering common teacher questions about math learning.

Click through to read the full review at MiddleWeb.
⇔ ⇔ ⇔
That's it! Enjoy the long weekend. Have fun at a cookout, or find a curbside tag sale and come away with some antique silver flatware. See you next week!