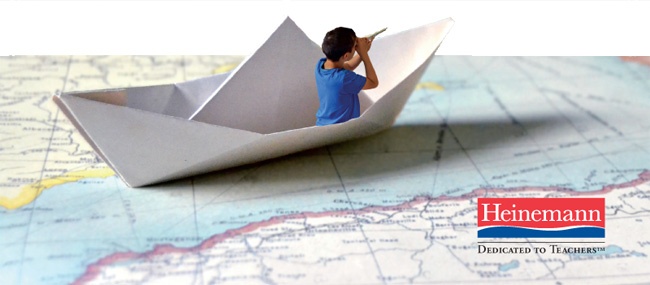 Welcome to the newest installment in our weekly link series on the Heinemann blog! Every week we find around five interesting links for you to take into your much deserved weekend. These links are interviews with educators, posts from our authors' and friends' blogs, and any interesting, newsworthy item from the past seven days. Check back each week for a new round of finds!
⇔⇔⇔
Author Vicki Vinton advocated for an alternate route in determining text complexity for standardized assessments:
The Common Core seems to have ushered in an age where third grade has become the new middle school, middle school is the new high school, and high school is the new college. And that's all because of the particular vision the Common Core authors have about what it means to be college and career ready.

Click through to read "Toward a Saner View of Text Complexity" on To Make a Prairie
⇔⇔⇔
Kylene Beers revealed the results to a survey she conducted that asked 1,000 teachers, "What reading skills do you most often teach to skilled readers" and, "What reading skills to you most often teach to less skilled readers?"
If kids never have the chance to question the text, then they never learn to question the text. If their teacher doesn't give them time to learn to question the author or make inferences, they don't learn to do those things. More worrisome, they perhaps begin to assume that they should not question the text, not question the author, not look for biases, not make inferences.

Click through to read "Who is Taught What?" on Kylene Beers's blog
⇔⇔⇔
Marjorie Martinelli and Kristi Mraz—known in professional circles as The Chartchums—have joined with us to offer online workshops: Chartchums Live! (or as close as we can get).
We planned the course with the hope that it would help teachers deepen children's engagement with charts by teaching how charts can build independence and agency, communicate information efficiently and effectively, and help in setting and achieving goals.

Click through to learn more from the Chartchums
⇔⇔⇔
On Bright, in the Medium publishing platform, Soraya Shockley of Youth Radio discussed education technology from a student's point of view:
A Teenager's View on Education Technology
⇔⇔⇔
Patricia Vitale-Reilly, author of Engaging Every Learner, was interviewed on Four O'Clock Faculty:
5 Questions with… Patricia Vitale-Reilly http://t.co/xv1a2stGtN #engageeverylearner @HeinemannPub

— Patty Vitale-Reilly (@pattyvreilly) May 15, 2015
Check back next week for more interesting links. Do you write a blog about your experiences in education? Leave a link in the comments below and we'll consider it for future round-ups. Have a great weekend!