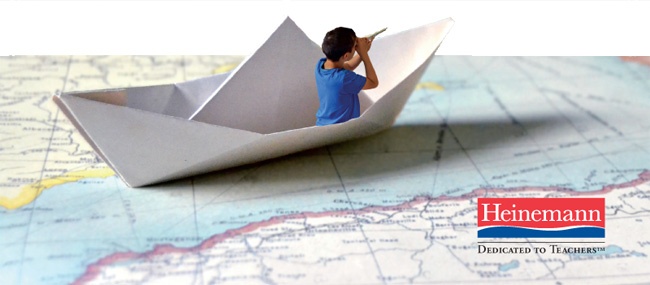 Welcome to a new series on the Heinemann blog! Every week we find five interesting links for you to take into your much deserved weekend. These links are interviews with educators, posts from our authors' and friends' blogs, and any interesting, newsworthy item from the past seven days. Check back each week for a new round of finds!
⇔⇔⇔
At the Two Writing Teachers blog, Betsy Hubbard reviewed Jen Serravallo's newest The Reading Strategies Book:
"The best way I can prepare you for this book is to get sticky notes and highlighters ready, because you will need them to mark up your favorite thoughts and ideas."

—Click through to read "THE READING STRATEGIES BOOK" review by Betsy Hubbard at Two Writing Teachers
⇔⇔⇔
Allison Marchetti—coauthor with Rebekah O'Dell of the forthcoming Writing With Mentors from Heinemann—offered a lesson of empathy and elegiac poetry in her blog:
"Sometimes one of the best ways to comfort students who are feeling low is to honor their feelings of stress, sadness, and melancholy rather than try to distract them or encourage them to stay positive. A study of the elegy — a poem that expresses sorrow or lamentation — can be a way to honor students' emotions and help them reflect on their feelings in a healthy way while studying some absolutely brilliant poetry."

—Click through to read "A WRITING WORKSHOP CURE FOR THE APRIL DOLDRUMS" by Allison Marchetti at Moving Writers
⇔⇔⇔
Rich Czyz of the 4 O'Clock Faculty blog interviewed Lisa Eickholdt, author of Learning From Classmates:
"Not only does using student mentor text encourage the student writer, it also lifts the level of engagement with writing for everyone else in the classroom. I believe this is because when we share great students' writing, we are sharing text that is more developmentally appropriate than some of the adult models we use. Because the work is developmentally appropriate, it seems attainable to more students. This attainability builds enthusiasm."

—Click through to read "5 QUESTIONS WITH… LISA EICKHOLDT" by Rich Czyz at 4 O'Clock Faculty
⇔⇔⇔
Having published her first book with Heinemann this year, Kari Yates continued her prolific and motivating blog at Simply Inspired Teaching:
"Our kids come to us from literally all over the map with vastly different backgrounds, strengths, and past learning opportunities. Our classroom communities are more diverse than ever. Success hinges on our ability to view all students as capable and ready regardless of learning and language differences."

—Click through to read "EVERY STUDENT IS READY FOR THE NEXT STEP—IT JUST MAY NOT BE THE SAME STEP" by Kari Yates at Simply Inspired Teaching
⇔⇔⇔
Chartchum Kristi Mraz, coauthor of Smarter Charts, wrote about the challenge of fostering student agency for The Educator Collaborative:
"In teaching kindergarten, I learned that doing something for a child is like providing a stool to stand on, the child is able to reach their goal providing the stool is there."

—Click through to read "EVERYTHING I NEEDED TO KNOW (ABOUT TEACHING) I LEARNED IN KINDERGARTEN (WHILE TEACHING)" by Kristi Mraz at The Educator Collaborative
⇔⇔⇔
And one last tweet:
Authentic writing experiences and real audiences-keys to nonfiction writing. Gr 4 ex. #ExplorationsNF. @HeinemannPub pic.twitter.com/5991cCx4uC

— Linda Hoyt (@lindavhoyt) April 22, 2015
Check back next week for more interesting links. Do you write a blog about your experiences in education? Leave a link in the comments below and we'll consider it for future round-ups. Have a great weekend!