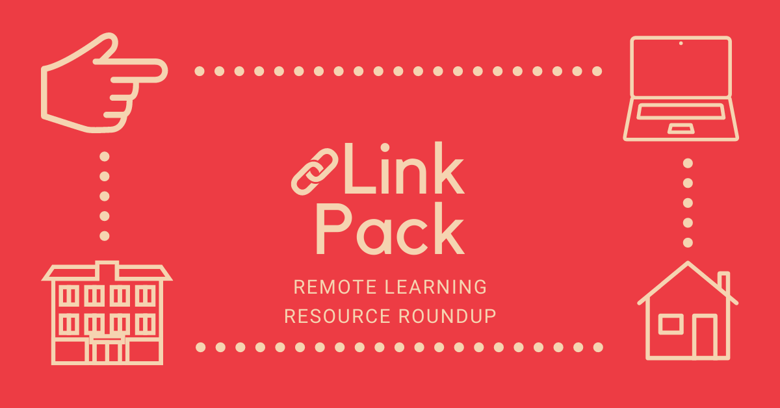 This school year brings with it a lot of uncertainty. In order to keep our readers up to date we'll continue to add links to this blog as new resources become available. Check back here for updates!



HEINEMANN AUTHOR REMOTE LEARNING LINK

Positive Practices for You and Your Students. A new blog post from Kelly Boswell, author of

Every Kid A Writer

. Find Kelly on Twitter @KellyMBoswell.
Supporting Vocabulary Development Across the Day During Remote Learning a new blog post from Tanya S. Wright, author of

A Teacher's Guide to Vocabulary Development Across the Day

. Find Tanya on Twitter @TanyaSWright.
Assessing the Strength of Our Teacher-Student Relationships. A FREE downloadable resource from Jaleel Howard, Tanya Milner-McCall, and Tyrone Howard, authors of No More Teaching Without Positive Relationships. @JaleelRHoward @TyroneCHoward
Social Justice, Storytelling, and Poetry: Remote Learning for K-12 Bilingual and Multilingual Students -- A FREE 23 Page Presentation with hyperlinks and VIDEOS from the authors of

En Comunidad: Lessons for Centering the Voices and Experiences of Bilingual Latinx Students

, Carla España and Luz Yadira Herrera. Find them on Twitter at @ProfesoraEspana and @Dra_LuzYadira.
Tom Marshall, author of Reclaiming the Principalship: Instructional Leadership Strategies to Engage Your School Community and Focus on Learning, shared a lovely video for 3rd Graders via Twitter where he reads from one of @FletcherRalph 's books on writing notebooks. Follow Tom on Twitter @tomlittogether.
Teach Students How to Use Online Sources to Learn
Give Students a Tool for Chat Room Discussions about Texts
When Online Learning Becomes Overwhelming, There's Power in a Clear Purpose. All three lessons from Sunday Cummins, author of Nurturing Informed Thinking: Reading, Talking, and Writing Across Content-Area Sources.

Sketchnote IDs: Whether Meeting Face-to-Face or Online, Building a Solid Classroom Community is the Key to Student Engagement

-

-A Classroom Management lesson from author Nancy Steineke. Find Nancy on Twitter @nsteineke.

At the Start of This School Year, Reject the Deficit Model. Instead, Value Student and Family Expertise

-- another

Classroom Management

lesson from author Nancy Steineke. Find Nancy on Twitter @nsteineke.
10 Tips for Conferring with Student Writers Online by Carl Anderson, author of

A Teacher's Guide to Writing Conferences

. Find Carl on Twitter @ConferringCarl.
A Virtual Literacy Coaching Toolkit from Stephanie Affinito, author of Literacy Coaching: Transforming Teaching and Learning with Digital Tools and Technology. Find Stephanie on Twitter at @AffinitoLit.
From Instinctual to Intentional: My Transition to Online Learning

-

- a new blog post from Liz Prather,

author of Story Matters: Teaching Teens to Use the Tools of Narrative to Argue and Inform. Find her on Twitter @PratherLiz.

Creating Safe Spaces in a Virtual Community: How to Develop Online Classroom Norms -- another Classroom Management lesson from author Nancy Steineke. Find Nancy on Twitter @nsteineke.
Allison Marchetti and Rebekah O'Dell, co-authors of Writing with Mentors:
How to Reach Every Writer in the Room, have written a new blog post: Writing Workshop That Can Thrive in a Pandemic. Find them on Twitter @AllisonMarchett and @RebekahODell1.
Sarah M. Zerwin, author of Point-Less: An English Teacher's Guide to More Meaningful Grading has written a blog post that offers Six Core Beliefs to Ground Your Literacy Instruction this Fall. Follow Sarah on Twitter @SarahMZerwin.
Nancy Steineke, author of Classroom Management: Strategies for Achievement, Cooperation, and Engagement, has pulled together a free downloadable PDF: Tuning in to the Needs of Our Students during a Pandemic. Find Nancy on Twitter @nsteineke.
Jennifer Serravallo recorded a video about mentor texts for upper elementary/middle school reading-- a lesson about how the mood of a setting impacts the character.

In a new video, Nell Duke discusses how to provide phonological awareness, phonics, interactive writing, and vocabulary instruction for young children at a distance.

Nancy Steineke, author of Classroom Management: Strategies for Achievement, Cooperation, and Engagement, has pulled together a free downloadable PDF with:

Ideas for Finding Connection and Celebration in the Midst of COVID-19

. Find Nancy on Twitter @nsteineke.
The authors of Inquiry Illuminated have pulled together a Researcher's Workshop guide that can be accomplished remotely. Download the guide here.
Martin Brandt, author of Between The Commas, has published a blog post with Sentence Modeling exercises. Check it out. Find Martin on Twitter at @MartinB69967611.
Young Children's Mathematics

authors

Thomas P. Carpenter, Megan L. Franke, Nicholas C. Johnson, Angela Chan Turrou, and Anita Wager present some helpful ideas for how to support young children's mathematical thinking at home in their bestselling book. We've put some of those ideas for teachers and parents together in a new blog.
Georgia Heard, author of Heart Maps and many other beloved Heinemann titles has put together some tips and video tutorials (!) for heart mapping at home for meaningful and authentic writing.
Clare Landrigan, co-author of, It's All About the Books, has built a virtual bookroom curated with free digital resources for grades K-5. Join her Virtual Bookroom on Padlet and learn how to create your own virtual classroom library.
Award-winning teacher, author, and staff development leader Donalyn Miller has written a thoughtful piece on the School Library Journal website that offers suggestions for sparking reading motivation during the time of the Coronavirus. Find Donalyn on Twitter at @donalynbooks.
Marilyn Pryle, author of Reading with Presence: Crafting Meaningful, Evidenced-Based Reading Responses, has written a visually engaging piece about EDMODO and FLIPGRID and why she thinks they are

Two Interactive Sites Perfect for Distance Learning

. Find Marilyn on Twitter at @MPryle.
Carol Jago, author of The Book in Question: Why and How Reading Is in Crisis, has put together a poetry lesson in PDF form that is easy to download and share --

Ideas for writing poems in a pandemic

. Find Carol on Twitter at @CarolJago.

Nancy Steineke and Smokey Daniels are helping to adapt traditional instruction to online classroom environments by resharing a nonfiction narrative lesson called "Writing a Disease's Memoir" from their book,

Texts and Lessons for Content-Area Writing

. This lesson teaches students how to investigate a topic using multiple texts and write about the research in an explanatory and persuasive way. Find the authors on Twitter at @nsteineke and @smokeylit.

Supporting Spelling at Home: A new video from Matt Glover in his Parent to Parent video series on YouTube. Learn more about Matt Glover on his website: Author to Author.


Rebekah O'Dell, co-author of Beyond Literary Analysis and Writing with Mentors, is hosting a weekly blog series: Remote Exploration of Poetry on her blog, Moving Writers. Find Rebekah on Twitter at @RebekahODell1.

Linda Levi, coauthor of Children's Mathematics, has published a new blog post: Doing Math with Your Child - Promoting Problem Solving; Suggestions for Parents. Find Linda on Twitter at @LLeviCGIMath.
Georgia Heard, author of Heart Maps and other Heinemann titles, has shared a video on twitter on How to Create a Heart Map as a way to connect with our hearts and the hearts of others during these challenging times. Find Georgia on Twitter at @GeorgiaHeard1.

Linda Rief, author of The Quickwrite Handbook, graciously offered (from retirement) to pull together some quickwrite ideas for parents and teachers who are navigating remote learning for kids of all ages. Click here to access the PDF: Ideas for Jumpstarting Writing at Home. For more writing resources visit our Writing Resources webpage.

Tammy Mulligan, co-author of It's All About the Books: How to Create Bookrooms and Classroom Libraries That Inspire Readers, has started a video series with her dog called Writing Camp with Hoppy and Ranger. Find Tammy on Twitter at @TammyBMulligan.
Susan O'Connell, lead author of

Math in Practice

, pulled together resources for teaching math remotely for K-5 students. These resources and more were mentioned in the recent podcast interview with Susan. You can find Susan on Twitter at @SueOConnellMath.
Maggie Beattie Roberts, co-author of DIY Literacy, posted a video on Vimeo on How To Create Simple Engaging and Effective Digital Lessons. Find Maggie on Twitter at @MaggieBRoberts.
Units of Study author Lucy Calkins and her Teachers College Reading and Writing Project coauthors are hosting a series of special Office Hours sessions to help educators and administrators cope with the challenges of teaching and learning remotely. Fill out the TCRWP Office Hours Landing Page to access recordings of previous sessions, view the links and resources, and register for the next sessions.
Additional resources from Teachers College Reading and Writing Project are available on TCRWP's Virtual Learning Support webpage, including resources related to Flipped Teaching, Live Teaching, Micro-Workshops, Padlets, Raising Morale, and Supporting Kids Offline.
Matt Glover, author of Craft and Process Studies, has started a video series for parents with easy ways to support children at home. The videos are posted on Matt's website, Author to Author, and also on his YouTube page. You can find Matt on Twitter at @Mattglover123.
Ralph Fletcher, author of

Focus Lessons

, is hosting a Facebook Live series called "Writing with Ralph". Watch recorded sessions on Ralph's Facebook page. You can find him on Twitter at @FletcherRalph.
Kristin Ziemke and Katie Muhtaris, authors of Read The World, have created a Distance Learning Support webpage with helpful links and documents. Find them on Twitter at @KristinZiemke and @KatieMuhtaris.
Kristine Mraz, coauthor of Kids First from Day One, is sharing Lesson Plans on her blog. Can you guess what Lesson Plan #1 is? Find her on Twitter at @MrazKristine.
Barry Lane (author of After THE END: Teaching and Learning Creative Revision) and Colleen Mestdagh have shared a video and lesson plan for Kindness Literacy Lessons. Find Barry on Twitter at @BarryLane.
Jim Burke, author of The Six Academic Writing Assignments: Designing the User's Journey has a new blog post on The Write Center blog.: Writing to Learn: What This Type of Assignment Looks Like in an Online Class.
The National Council of Teachers of Mathematics (NCTM) is hosting "100 days of professional development" with live 60-minute webinars presented by selected speakers from the NCTM conference that was to take place in Chicago. On the roster is Heinemann Fellow Marian Dingle with

How We Move from Equality to Equity and Justice in Mathematics Teaching

. Click here to register for Marian's webinar.
Wendy Ward Hoffer, author of the Phenomenal Teaching: A Guide for Reflection and Growth, is part of the team hosting the Phenomenal Teaching Webinar Series. Registration for this PD webinar series is FREE but there is the option to upgrade and get a copy of Phenomenal Teaching mailed to you as a companion resource for the series. Find Wendy on Twitter at @WendyWardHoffer.
Carla España and Luz Yadira Herrera are hosting a virtual book group series on Zoom for their book

En Comunidad: Lessons for Centering the Voices and Experiences of Bilingual Latinx Students

. Find them on Twitter at @ProfesoraEspana and @Dra_LuzYadira.
Kristin Ziemke and Katie Muhtaris, co-authors of Read the World, are hosting a PD opportunity on 3/27 at 3PM (ET) / Noon (PT) focused on: Rethinking Learning in a Digital Age. Bring your questions and be ready to talk about your teaching.
Register here.
Kylene Beers, author of

When Kids Can't Read—What Teachers Can Do

, is hosting Zoom sessions about literacy issues and home schooling. Find her on Twitter at @KyleneBeers.

Penny Kittle and Kelly Gallagher, authors of

180 Days: Two Teachers and the Quest to Engage and Empower Adolescents

, have started a YouTube Video Series where they are leading conversations around Teaching and Learning. Teachers are invited to respond on Flipgrid. Find them on Twitter at @PennyKittle and @KellyGToGo
Amy Ludwig VanDerwater, author of Poems Are Teachers, is leading a video series called Keeping a Notebook ... Together. Videos are posted on Padlet and YouTube. Find Amy on Twitter at @amylvpoemfarm.
Lots of great content in blog form as well related to remote teaching and learning. Click the button below to browse through previously published blog.
Blogs like these: