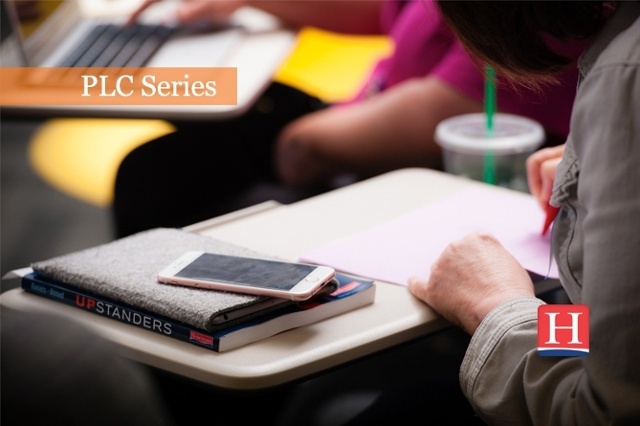 Welcome back to the Heinemann Professional Development Professional Learning Community (PLC) series. We are excited to present a new format for the 2017-2018 year!
Each month, we'll share 2 posts designed to provoke thinking and discussion, through a simple framework, incorporating mini-collections of linked content into your professional development time.
This month, our posts will support critical thinking, self-examination, and crucial discussion about our responsibility as educators to strive for social justice.
♦♦♦♦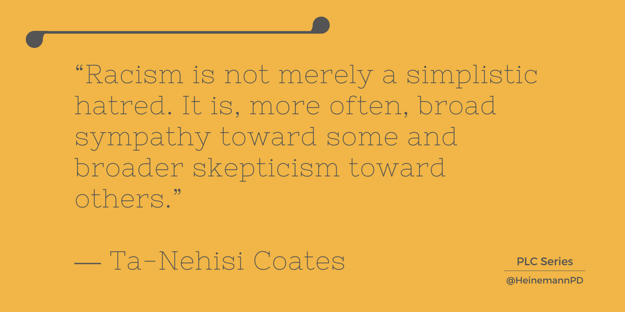 ♦♦♦♦
by Jaclyn Karabinas

Connect
Spend a few minutes writing or thinking about the above quote. Give yourself a chance to read closely and think deeply about this quote, specifically the impact of sympathy and skepticism.
---

Consider
Keep the following guiding question in your thinking as you listen, read, write, discuss, and act:
How can I listen more carefully to the truths of others as I work to understand my responsibility to students as members of society?
---

Educate
Listen to this episode (below) of the Heinemann Podcast with authors Sonja Cherry-Paul, Cornelius Minor, and Sara Ahmed. If possible, jot down your thinking, questions, phrases/terms that stick in your mind or plead for further attention.
Podcast Episode (transcript available): Dismantling Racism in Education
---

Reflect
Do you find yourself falling into the traps of "canned narratives," insistence of innocence, silence, or making blanket assumptions based on only one set of truths?
---

Practice
Find some colleagues with whom to talk about your own truths in relation to these notions. Remember, these conversations will be uncomfortable, but this is where the work begins.
---

Extend
Read the article "If You Think Racism is Too Political for Your Classroom, Think About What Your Silence Says." Sonja calls for us to: Do the Work, Listen, Plan, and Act.
Challenge yourself to follow Sonja's guide and set at least one goal of ACTION with students. One idea that comes to mind is that of Heinemann Fellows cohort #1 Jessica Lifshitz who pledged to "no longer allow the stories of white people and white characters to be the ones that my students see the most." Every read aloud during her first week of school had a character of color, yet was NOT a story about race. You can read more in her post, "How am I supposed to confront white supremacy and racism on the first day of school?
---

Refine
Time to think about what you've learned, tried, and where to go next. What have you tried? How is your thinking evolving? What's working? What topics do you need to read or discuss more?
Reconvene with colleagues and/or discuss with your PLN (Professional Learning Network) on social media. Even better- blog about it and share your process as you begin to apply your new understandings.
---

Act
Continue the work of educating yourself, having conversations, and listening to others share truths quite different from your own. Join together with colleagues and consider the following: If we accept that discomfort is inevitable but silence is not a strategy, what practices or systems can you examine for roots in racism in order to confront and change outcomes for students of color?
---
♦ Sign up to receive our PLC Series via email
by clicking here
. ♦
---
>>> For Further Reading:
PLC Series September Post #2: Advocacy, Not Neutrality
Pedagogy on Fire! Is Your Classroom Defeated, Defined, or Developed in This Era? By Jamila Lyiscott
Confronting My Privilege to Teach About Privilege By P.L. Thomas
♦♦♦♦
Looking for more PD?
Online: A webinar series is the perfect way to fit high-quality PD into your schedule! This month we begin a series with Colleen Cruz and another with Lisa Eickholdt & Patty Vitale-Reilly. Click here for details!
Off-Site: Which of your favorite authors are coming your way for a One-Day workshop? September brings PD days with Penny Kittle and with Harvey "Smokey" Daniels! Get the full Fall schedule by clicking here.
On-Site: Heinemann's Speakers & Consulting Authors are thought leaders in how to create successful classroom and school environments based on respect, collaboration, empathy, and positivity. Find out more by clicking here!