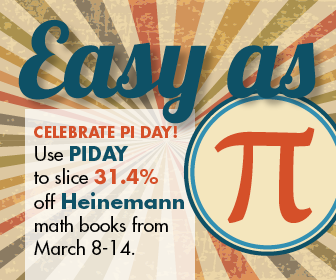 Every year as February turns to March, we circle one day on our calendar: March 14. Pi Day! While Congress officially recognized this is as "National Pi Day" in 2009, it's always been a holiday to us mathematicians.
(And just in case you don't have the first few digits of Pi memorized: 3.1415926535...)
The formula for saving is simple! Use the coupon code PIDAY at online checkout during the week leading up to March 14, 2015 and save 31.4% on all math professional books.
Full details

Code: PIDAY at online checkout
Offer: 31.4% off list price for math professional books
Not applicable: Bundles, Firsthand products, and ancillaries
Quantity: No limit
Duration: March 8-14
Area of a circle: 2πr2