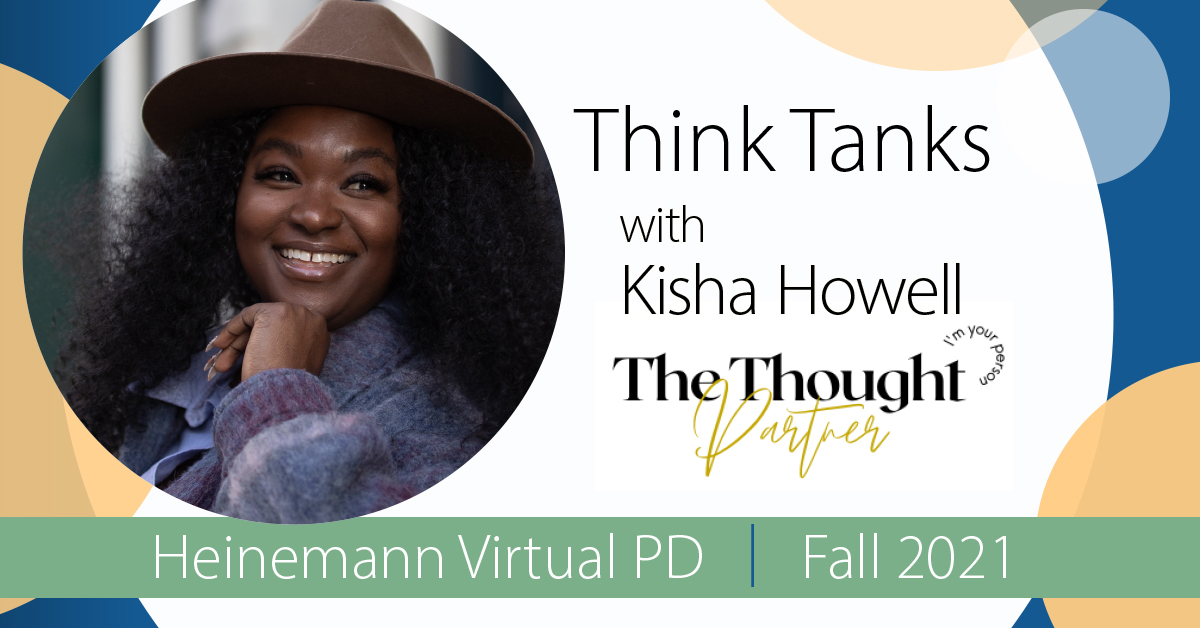 As educators and leaders, we are seen as the source of answers and guidance. The pressure to be there, to be that primary resource, to know all the answers, can be overwhelming. And the weight of this pandemic— the intense isolation that we are experiencing—only increases this stress. We need backup. We need community.
Thinking in community not only provides us with a support system, but also offers us opportunities for introspection! Heinemann Professional Development is excited to partner with Kisha Howell and The Thought Partner to create such opportunities through some think tanks.
11:30-2:30 ET, Friday, October 1, 2021
Fostering and Curating Community in Unstable Times
(A THINK TANK FOR EDUCATORS)
How can teachers create a sense of community and cohesion for children when instability is our collective truth? This think tank invites teachers to explore this question in community.
11:30-2:30 ET, Friday, December 10, 2021
Maintaining Humanity in the Face of Assessment
(A THINK TANK FOR EDUCATORS)
In the midst of resistance, how are educators honoring children and their humanity while having to answer to standardized testing? This think tank invites education leaders and teachers to explore this question in community. Collectively, participants will reflect on the tension between standardization, assessments, and seeing children's humanity.
These professional development opportunities will invite education leaders and teachers to gather and engage in collective critical thinking, in a community of practice that honors powerful questioning, reflection, and vulnerability. Not only is this a space that honors the process of thinking, but it is also a space that affirms "I don't know."
Drawing from conceptions of thinking and community from scholars such as bell hooks and Audre Lorde, the think tanks will serve as an opportunity for transformational thinking, solutions, and change. Participants will leave with innovative ideas and possible networking connections.
Whether you are a classroom teacher looking to join like-minded people to think, learn, and create change, a leader that feels like this kind of work is exactly what you and your staff need, or anyone in between, these think tanks will positively impact your professional life and most importantly, the lives of the children you serve.
Questions? Please reach out to us at workshops@heinemann.com or message us on FB @HeinemannPub or Twitter @HeinemannPD.