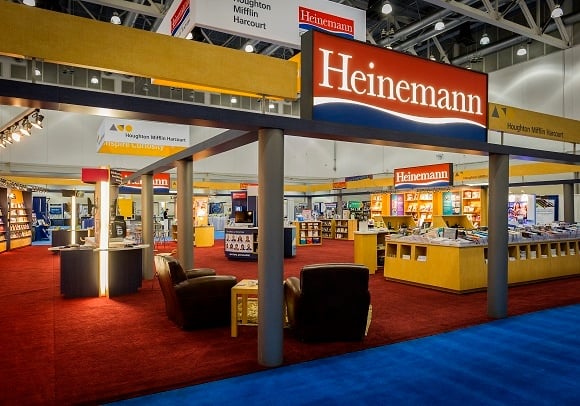 Educators from across the country gather next week at the Gaylord National Resort and Convention Center, in Washington, D.C., for the National Council of Teachers of English (NCTE) annual convention, to be held on November 20–23. This year's focus is "story as the landscape of knowing."
Heinemann has put together an exciting lineup of events featuring our authors. We invite you to join Heinemann for a series of book signings, tweetups (Twitter meet-ups), and Twitter chats.
Thomas Newkirk, in Minds Made for Stories, writes, "As humans, as time-bound mortals, we must tell stories." Newkirk and more than five dozen other Heinemann authors will lead workshops and take part in roundtable discussions during the four-day convention.
You'll also have the opportunity to meet a number of authors in person at book signings in the Heinemann booth, #734.
Friday, November 21st
1:00 pm – Georgia Heard, Finding the Heart of Nonfiction, and Paul Janeczko, Reading Poetry in the Middle Grades
2:00 pm – Harvey "Smokey" Daniels and Sara Ahmed, Upstanders
3:00 pm – Heidi Mills, Learning for Real
3:30 pm – Thomas Newkirk, Minds Made for Stories
4:30 pm – Meenoo Rami, Thrive
Saturday, November 22nd
10:00 am – Lucy Calkins, Units of Study, K–8, and Writing Pathways
11:00 am – Linda Rief, Read Write Teach
11:30 am – Dan Feigelson, Reading Projects Reimagined
1:00 pm – Stephanie Harvey and Anne Goudvis, Colonial Times – Short Nonfiction for American History
1:30 pm – Nancie Atwell, In the Middle, Third Edition
2:30 pm – Kristine Mraz and Marjorie Martinelli, Smarter Charts for Math, Science, and Social Studies
Also at the convention, Heinemann will conduct several tweetups featuring authors who have mastered social media platforms as professional networks. You'll be able to meet face-to-face with authors you follow and interact with on Twitter while contributing to a concurrent online conversation.
Friday, November 21st
3:30–4:00 pm, in the Heinemann booth, #734 – Kristin Ziemke and Katie Muhtaris, Connecting Comprehension and Technology
5:25–5:55 pm, in the Belvedere Lobby Bar – Chris Lehman and Kate Roberts, Falling in Love With Close Reading
Saturday, November 22nd
9:00–9:30 am, in the Heinemann booth, #734 – Kylene Beers and Robert Probst, Notice and Note
Plan to join us in Washington, D.C., for NCTE '14! We look forward to meeting you.
To learn more about the National Council of Teachers of English and the annual convention, click here.
***During the convention, all professional books on sale in the booth come with a 30% discount and free shipping. Additionally, all online orders of professional books from November 21 to November 28 will receive the same discount and shipping rate when you use code "NCTE14" at checkout. Please note: this is for professional books only and does not include firstHand products, Units of Study, Fountas & Pinnell, or Digital Campus offerings.