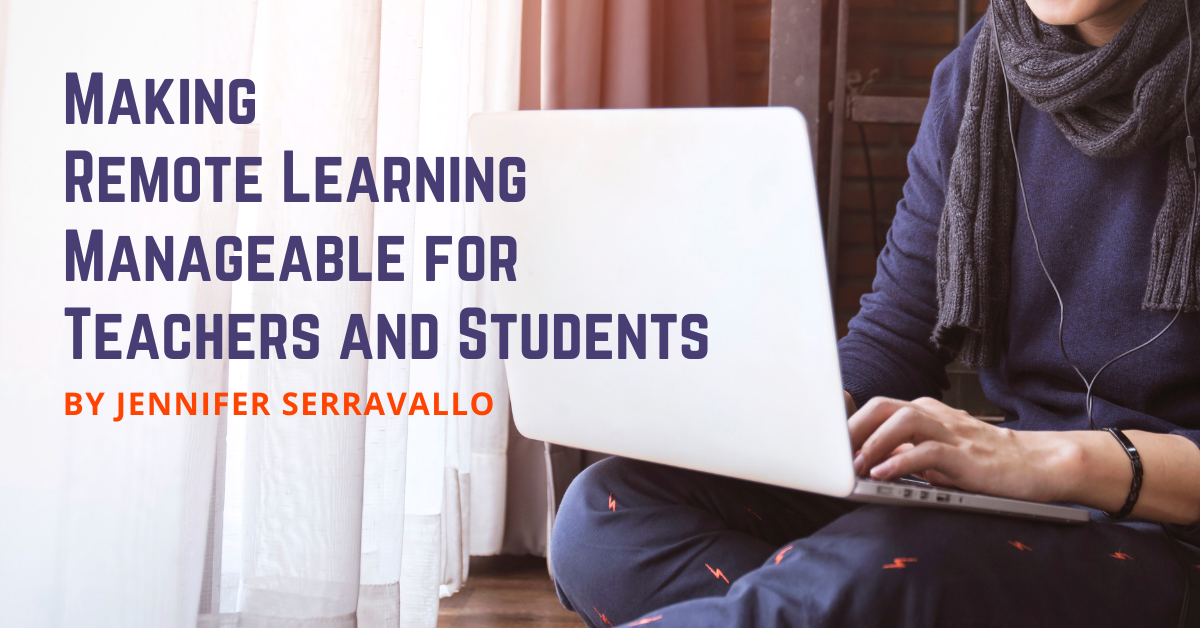 by Jennifer Serravallo

I'm hearing of teachers spending 14-16 hour days managing it all, and I am really really concerned about burnout. In a lot of cases, it's probably already happening. I'm reading stories out of Los Angeles, San Antonio, and other districts where a large percentages of kids are not logging in for anything, and have just disappeared. I'm hearing from parents who are at their wits end because of how much they are trying to manage so they are just throwing up their hands and giving up altogether.

I worked on a post in response to all of this, but as someone who is not in the classroom actually doing the work, I reached out to teachers in NY, FL, CT, TX, and CA for a reality check and received feedback before I shared anything. I also read many blog posts from educators who I trust that are sharing how they are managing it all.

The post that follows aims to answer the question, "How do I fit it all in?" with sample daily weekday schedules for teachers and kids.

Here's what I'm prioritizing:
Keeping a teacher's day to 6 hours all-in

Keeping a child's day to a max of 2 hours (with potential additional support for kids with IEPs, 504s or those who work with an ESL teacher)

Balance, flexibility, connection, and priority given to emotional wellbeing
I know that each teacher's reality is unique. Every community is going to have a unique set of challenges (from availability of tech and books to the number of community members facing illness and death, and more). In some places, districts and unions will be dictating what can and must happen, and in other places, teachers might be left to figure it out on their own.
Despite all this, I wanted to try to put something out there that might help everyone do good work, focus on things that matter, all while taking care of themselves and their families. Excellent teaching and support looks different for every learner, and what is just right for each teacher will be different, too. For what it's worth, what follows is what I think I would be doing right now (though I am sure I'd be revising as weeks go by). I hope it helps.
Teacher's Schedule:

Planning, Prepping, Posting, and Meeting

(Approximately 6 hours/Day)
Part I: Prep and Recording Lessons
One hour per day: plan and record lessons for reading, writing, math (ideally each is around 3 minutes long, maybe up to 5 minutes) and post recordings on platform (i.e. Google Classroom). Plan and post text, video, and assignment for content studies. Watch my video on this topic here.
2-3 hours per week: planning and collaborating with grade-level colleagues and/or instructional coaches.
Part II: Feedback, Individual Instruction, and Support for Students and Caregivers
1-2 hours per day: open "office hours" for student-initiated response time and to support adults at home who are helping children. Students (and/or their caregivers) might ask questions, connect with the teacher, and check in about assignments. Teachers might conduct spontaneous conferences** as students request them, engage in quick video conversations, email, and send very short spontaneous recorded videos in response to questions, etc. (via Google Hangouts, Zoom, WebEx, Meet, email, phone). Assuming each child (or adult helper) seeking help might take 10-15 min, a teacher could provide personal support to 4-8 families during this time each day.
2-3 hours per day: feedback and individualized instruction time for emailing, commenting, posting to offer feedback on assignments that have been turned in. For about half the time, teachers might schedule conferences and/or small groups** via video conferencing and/or phone. To keep this manageable, pick one subject a day to focus on, ask students to indicate a portion of their writing they want feedback on, and/or schedule different children on different days of the week. (via email, Google Hangout/Meet/Classroom, Zoom, WebEx). Watch my video on this topic here.
Assuming each child (or adult helper) seeking help might take 10-15 min, a teacher could support 8-12 families during this time each day.
The purpose of these is to offer individualized feedback and to be responsive. Depending on the population you work with, the age of your students, the level of involvement of parents as partners, etc., you may find that some of this works better than others and you may change the balance of how much time is spent on each.
Part III: Community Time
15-30 min per day: read aloud and community conversation. Live/synchronous option** if possible (i.e. "join via this link at this time") plus save recording somewhere for those who aren't able to join (via Zoom, Google Hangout, Microsoft Teams, WebEx, or whatever is approved by your district).
**Synchronous options can be challenging when students work with multiple teachers, when there are multiple children in the home, and/or when devices are scarce. While they can be beneficial for community-building and to providing meaningful guided practice and feedback, it's important to be flexible, and to offer a recorded, asynchronous option for those who aren't available to attend live.
A Student's Schedule:




(Approximately 2 hrs/day, Spread Out Across the Day with Breaks)



Reading: Watch a recorded video made by their teacher and read independently. Ideally reading is an actual book of their choice. Where texts are scarce, tap into online options (Epic, Capstone, Reading A to Z). As students read, they may be asked to practice what the teacher introduced in the video and/or what they are working on as an individual goal. Depending on the age, they may be asked to do some minimal jotting. Students can jot on paper and then upload a photo of their work when possible or jot on screen when photos aren't possible. For those without devices, they can jot on paper and be ready to share with the teacher during a check-in. Once a week, have a video or phone conference or small group with the teacher if possible. Once a week, check in with a classmate or group for a partner or club conversation.
Writing: Watch a recorded video made by their teacher and write independently. Ideally writing is based on a topic of choice, and may or may not be within a genre-focused unit of study. Writing is best done on paper up to late elementary school (and then scanned or photographed to upload) and may be done on paper or screen in late elementary and middle school. During writing time, students work through the writing process and read and respond to teacher comments. Once a week, teachers have a video or phone conference or small group if possible.
Math: Watch a recorded video made by their teacher and then practice. Practice might be done on paper packets mailed home, with games (if someone at home is available to play with them and they have materials necessary such as counters, dice, etc.), or on-screen (via Khan Academy, Greg Tang Math, or similar). Once a week, teachers have a video or phone conference or small group if possible.
Content Studies: Read a text and watch a video (i.e. something from National Geographic or Brain Pop, or a very short mini-lecture recorded by the teacher), and/or study a document posted by their teacher. Engage in conversations with peers about the topic, come up with their own questions, explore more about the topic, create a presentation to share with others (and leave commenting open to have conversation about the topic).
Art, Music, Physical Education: spend 30 min on activities provided by a specialist.
SpEd/ESL Teachers work with students per IEPs, 504s, or English learning plans and requirements.
To hear more from Jennifer Serravallo and to continue the conversation on this topic with other teachers, be sure to join the Reading and Writing Strategies Community Facebook Group.
---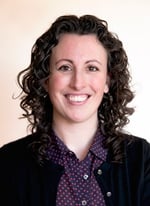 Jennifer Serravallo is the author of New York Times' bestseller The Reading Strategies Book as well as other popular Heinemann professional books, The Writing Strategies Book; Teaching Reading in Small Groups; and The Literacy Teacher's Playbook, Grades K–2 and Grades 3–6. Her newest books are Understanding Texts & Readers, and A Teacher's Guide to Reading Conferences.
In Spring 2019, Jen's new Complete Comprehension: Fiction and Complete Comprehension: Nonfiction were released. These assessment and teaching resources expands upon the comprehension skill progressions from Understanding Texts & Readers and offer hundreds more strategies like those in The Reading Strategies Book.
Additionally, Jen is the author of the On-Demand Courses Strategies in Action: Reading and Writing Methods and Content and Teaching Reading in Small Groups: Matching Methods to Purposes, where you can watch dozens of videos of Jen teaching in real classrooms and engage with other educators in a self-guided course.
Learn more about Jen and her work at https://www.heinemann.com/jenniferserravallo/, on Twitter @jserravallo, on Instagram @jenniferserravallo, or by joining The Reading and Writing Strategies Facebook Community.