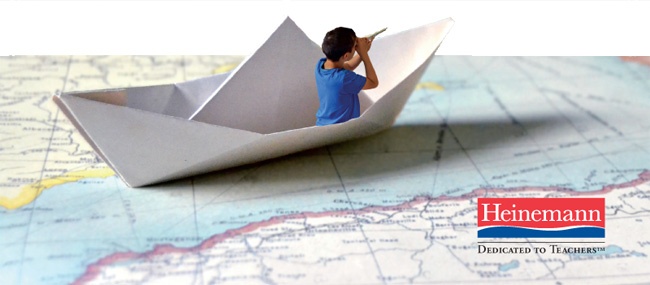 Welcome to the second entry in a new series on the Heinemann blog! Every week we find around five interesting links for you to take into your much deserved weekend. These links are interviews with educators, posts from our authors' and friends' blogs, and any interesting, newsworthy item from the past seven days. Check back each week for a new round of finds!
⇔⇔⇔
At Two Writing Teachers, Tara Smith wrote about a presentation Ralph Fletcher gave called "Making Nonfiction from Scratch: How Can We Give Students the Time, the Tools, and the Vision They Need in Order to Create Authentic Information Writing?"
Ralph began his presentation with a spirited defense of keeping narrative writing at heart of our writing workshops, reminding us that what is remembered is connected to and embedded in story. The elements of surprise and suspense draw us into stories, he said, they keep us on our toes and hold our interest.

—Click through to read "Learning from Ralph Fletcher: Teaching Authentic Information Writing" by Tara Smith at Two Writing Teachers.
⇔⇔⇔
Nancie Atwell appeared on PBS NEWSHOUR on Wednesday evening, in a segment called, "'World's best teacher' does not believe in tests and quizzes."
Click through to watch the video clip.
⇔⇔⇔
Author Penny Kittle has won the Exemplary Leader Award from CEL and will receive it at the NCTE Annual Convention in Minneapolis!
⇔⇔⇔
Teacher ​Jianna Taylor wrote a review of Upstanders: How to Engage Middle School Hearts & Minds with Inquiry by Harvey "Smokey" Daniels and Sara K. Ahmed.
Of all of the professional books I have read, this is the first that felt as if it were written directly for me and the type of teacher I am. I could see myself as a teacher in the pages, but more than that, I could see a better version of my teacher self in the pages.

Click through to read Jianna's review at Oakland Schools Literacy.
⇔⇔⇔
Amy Ludwig VanDerwater finished off an incredible 30-day sing-a-poem project for National Poetry Month. Visit The Poem Farm for more.
Happy last day of #NationalPoetryMonth! Sing That Poem! closes with a #poem about a girl named Joanna. http://t.co/czI0ZqJZqk #poetrylove

— AmyLudwigVanDerwater (@amylvpoemfarm) April 30, 2015
Check back next week for more interesting links. Do you write a blog about your experiences in education? Leave a link in the comments below and we'll consider it for future round-ups. Have a great weekend!