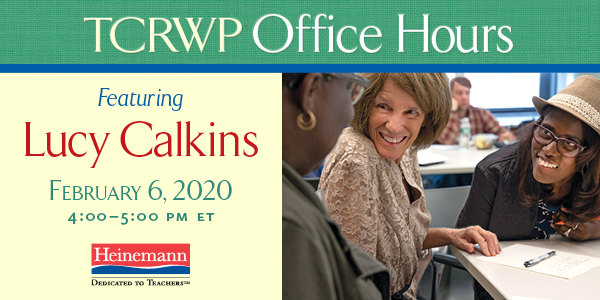 The popular Office Hours webinar series from Lucy Calkins and the TCRWP will resume on February 6th, 4:00–5:00 PM (ET). In these interactive webinars, which will occur on the first Thursday of the month from 4:00–5:00 pm (Eastern Time), Lucy and her TCRWP colleagues will respond to questions you pose live.
Please note that when you register for the Office Hours webinar series, you will receive a personalized link unique to you that you may use to join all of the sessions scheduled for Winter/Spring 2020:
February 6th, 4:00–5:00 PM (ET)
March 5th, 4:00–5:00 PM (ET)
April 2nd, 4:00–5:00 PM (ET)
May 7th, 4:00–5:00 PM (ET)
---
Catch Up on Past Office Hours
Fill out the landing page to view the complete recordings of previous Office Hours webinars and be sure not to miss the question list pdf for a helpful chart of all topics and questions asked in each of the webinars.
For more information about Professional Development opportunities related to the Units of Study, visit UnitsofStudy.com/ProfessionalDevelopment.