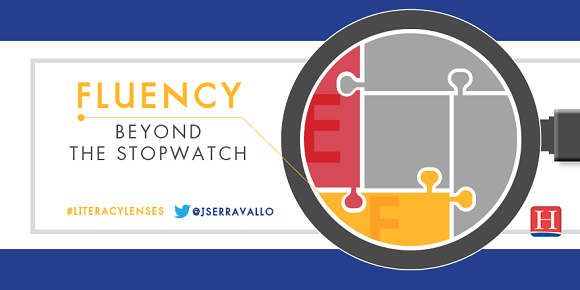 We've been talking about Jennifer Serravallo's Five Lenses to Assess and Teach Readers online these past few months. Each lens is important on its own and can provide you with a piece of the puzzle, but by using these lenses—engagement, fluency, print work, comprehension and conversation—together, you will get the clearest sense of a student.
FLUENCY

Let's take a look at fluency. Fluent reading both communicates that the text is making sense, and helps readers make sense of the text. To read fluently, students need to understand what they are reading. Some argue there is a chicken-and-egg relationship between fluency and comprehension. As Jen writes in her upcoming book The Reading Strategies Book, "There are exceptions to this rule of fluency and comprehension being inextricably linked. Have you ever met that child who reads a text sounding like he is reading lines for a Broadway audition, only to stop, be asked a simple question about what he just read, and have him tell you he doesn't remember a thing? It's important that in our attempts to teach children to read fluently, we don't send the message that reading is just about performing."
There are endless opportunities to assess and teach fluency. You can take notes during a whole-class or small-group shared reading, listening for how students use (or don't use) punctuation. When conferring, you can listen to see how fluent or expressive a student's reading sounds. Listen as students talk during partnerships or book clubs; do they choose text to support their thinking? Use warm-up and transfer groups to give children a chance to practice in a book that is easy for them, and immediately transfer the felt sense of fluent reading to their independent books. You can also take a fluency record or a running record in the context of any oral reading.
​There are a few parts to this goal of reading fluency:
Phrasing or parsing – putting words together into meaningful groups within a sentence.
Expression or intonation or prosody – reading to match the feeling of the piece, paying attention to ending punctuation and dialogue marks.
Emphasis – emphasizing words in the sentence to match the author's meaning. Paying attention to text treatments (bold, italics, all caps).
Automaticity – reading known words automatically
Pace – reading at a pace that mirrors how we talk, not racing through words or reading at a labored rate.
Let's take a closer look at some of the tools you can use to help you assess fluency. Running records were made mainstream by Marie Clay as a way to record what students do as you sit and listen to them read. We'll discuss running records more next week when we focus on Print Work. A running record of a child's oral reading can give helpful information about fluency. Listen as students read aloud, recording their pauses and instances of expressive reading. You can then go back and evaluate the number of words in a phrase group, where the pauses were and whether they were syntactically appropriate, and how often the reader paid attention to punctuation. High-frequency words are those words that appear most frequently in text. You can start with the most simple and most frequent words (found by doing an internet search for "Dolch" or "high-frequency words").
We wouldn't expect readers at the lowest levels (A, B, C) to read with fluency, as their focus should be on one-to-one matching (reading one word aloud for each word in print) and pointing under the words – reading smoothly and this goal cannot live side-by-side. However, by level D we should expect some phrasing, and a by E intonation as well. Keep fluency in mind when matching students to Just Right Books. For readers J and above, look for level 3 or 4 on this NAEP Oral Reading Fluency Scale.
Have you ever thought of teaching shared reading as a small group? How are you a model of fluent reading in your classroom? As you consider the two lenses we've discusses so far (engagement and fluency), what resonates? We have created blank versions of some of Jen's suggested engagement and fluency tools for you to download and use in your classrooms. Scroll down to the bottom of this post for both Microsoft Word and PDF versions.
For more tips, examples, and strategies from Jennifer Serravallo, join us on Twitter using the hashtag #literacylenses.
♦ ♦ ♦
Jennifer Serravallo is a national literacy consultant and the bestselling author or coauthor of the Heinemann titles Teaching Reading in Small Groups, Conferring with Readers, The Literacy Teacher's Playbook K–2, and The Literacy Teacher's Playbook Grades 3–6. She started out teaching grades 3–5 in Title I schools and then spent eight years as a national staff developer at the Teachers College Reading and Writing Project.