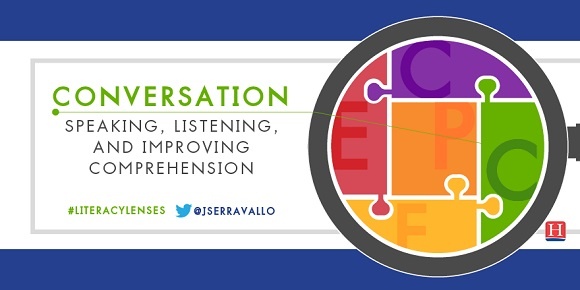 As we wrap up our month-long conversation around Jennifer Serravallo's Five Lenses to Assess and Teach Readers, it's appropriate to note that the last lens is conversation. We started with engagement, covering some of the methods of assessing engagement in students and classrooms. After engagement we covered the different aspects of fluency, including automaticity, intonation/expression/prosody, phrasing/parsing, emphasis, and pace. After fluency we talked about print work, including running records and the three cueing systems all readers use (meaning, syntactic, and visual). Last week we touched on the importance of comprehension, as well as ways to assess it in your classroom.
Each lens is important on its own, but you will get the clearest sense of a student by using all five lenses together.
CONVERSATION

Conversation is a skill. Student conversations about reading, whether with a reading partner, book club, or during a whole-class conversation, can give teachers a window into students' understanding. It is essential that we provide opportunities across the day for our students to engage in meaningful conversation. These conversations should be about topics of importance to the classroom community, about books read together as a class and independently with partners and clubs, about writing, about math, and so on. As students speak and listen, it is just as important for teachers to listen and assess. You can take notes during whole-class, one-on-one, and small-group conversations. Use your notes to develop teaching and learning opportunities for students.
Talking well—especially about books—comes naturally to very few children. When students have time to talk about their books, they grow in many ways. Listening in as students talk can help you determine what reading skills they are and are not using, as well as how proficiently they are using those skills. An oral text, these conversations provide a window into what children are thinking about as they read and discuss their books. It is also important to listen for conversational skills as children talk.
"Great conversations can invigorate children, spark new thinking, encourage laughter, and teach healthy debate. They can help students come to new insights and even increase motivation to read." —Jennifer Serravallo

How often do your students have opportunities to be social around books? What is your role when students are talking about books?
We have created blank versions of some of the engagement and fluency tools we have discussed in previous blogs for you to download and use in your classrooms. Scroll down to the bottom of this post for both Microsoft Word and PDF versions.
For more tips, examples, and strategies from Jennifer Serravallo, join us on Twitter using the hashtag #literacylenses.
♦ ♦ ♦ ♦
Jennifer Serravallo is a national literacy consultant and the bestselling author or coauthor of the Heinemann titles Conferring with Readers, Teaching Reading in Small Groups, The Literacy Teacher's Playbook K–2 and The Literacy Teacher's Playbook 3–6. She started out teaching grades 3–5 in Title I schools and then spent eight years as a national staff developer at the Teachers College Reading and Writing Project.