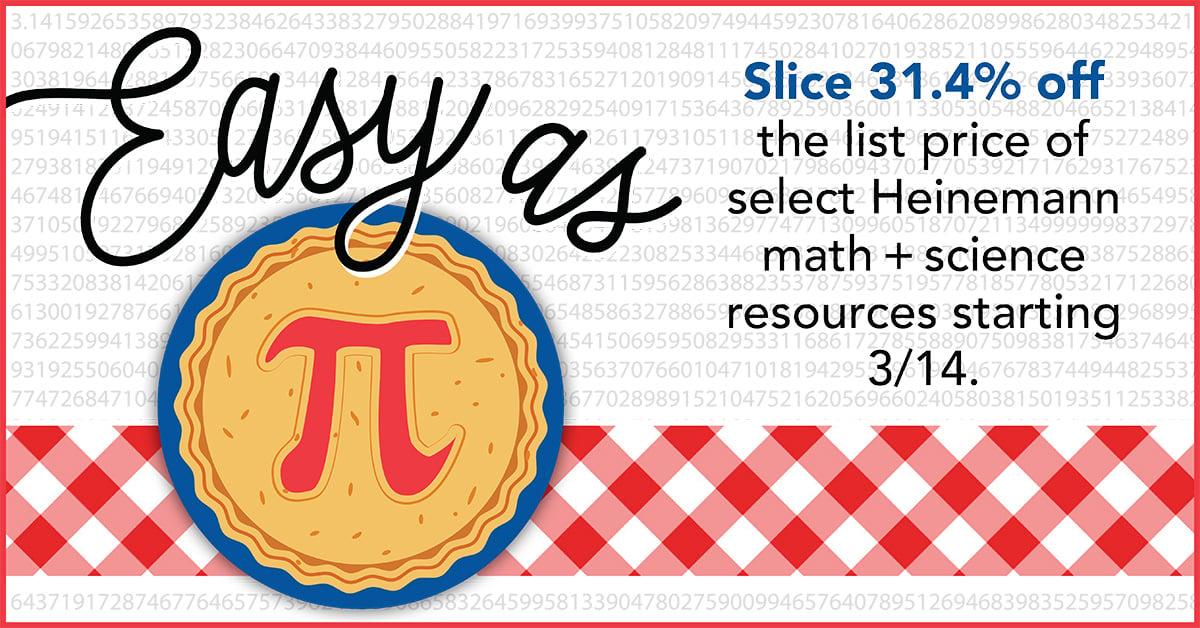 March 14 was officially declared National Pi Day in 2009…but math teachers and enthusiasts have long celebrated this date.
(And if you've ever wondered what the first million digits of Pi are: 3.14159…)

To celebrate, we're offering 31.4% off the list price of select math and science resources (including professional books, Math in Practice, and Contexts for Learning Math) plus FREE SHIPPING!
Use the coupon code PIDAY at online checkout from March 14-21, 2021 to get your slice of this deal. Some restrictions apply. See below for complete details.

---
---
---

Teaching and learning math can be hard. Math in Practice is like a math coach for every teacher. This grade-by-grade resource is filled with strategies and support for teaching math more confidently and effectively.
---
Math fact drills and endless word problem worksheets are ineffective and meaningless to students. Contexts for Learning Mathematics provides carefully crafted units designed to foster deep understanding in a math workshop environment. By setting each unit in the context of students' lives, teaching and learning immediately becomes engaging and meaningful in your classroom.
---
Some restrictions apply. Complete details:
Use coupon code PIDAY online only during checkout at Heinemann.com to receive 31.4% off the LIST PRICE of select math and science resources. Offer valid on online orders only paid by credit card—no purchase orders, phone orders, or faxed orders. Discount limited to Professional Books and select Curricular Resources. Does not include Calkins Classroom Libraries, Fountas & Pinnell Classroom, or other Curricular Resources such as LLI, Benchmark, Units of Study, Complete Comprehension, Comprehension Toolkit, or Listening to Learn. Limited to stock on hand. Does not apply to eBooks, Audiobooks, preorders, bundles, Professional Development programs, or prior orders. Cannot be combined with any other offers. Orders must be received by 11:59 p.m. Eastern Time on Sunday, March 21, 2021. Free shipping by ground, limited to orders shipped in the United States