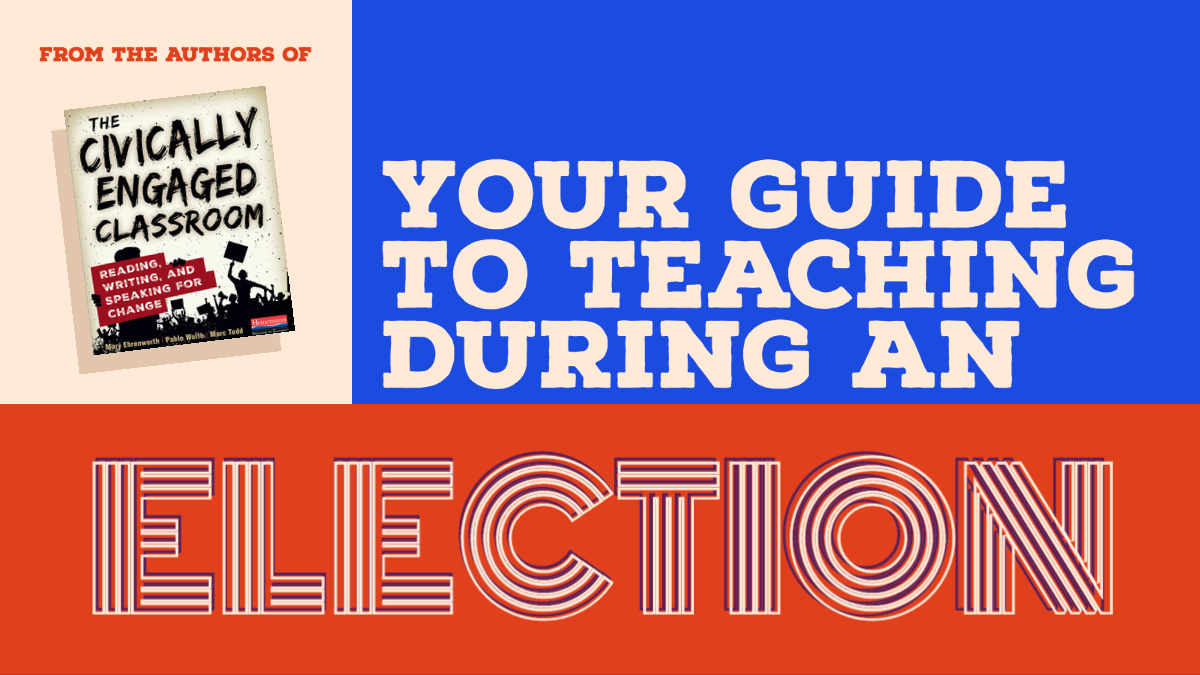 With an historic national election on the horizon, you may be wondering if and how you should address it in your classroom. Here, Mary Ehrenworth, Pablo Wolfe, and Marc Todd, authors of The Civically Engaged Classroom, have created an immensely helpful guide to teaching during an election.
Below, you can read their introduction to the guide and follow the link to download a copy.
Dear Friends,
If you're looking at this guide, you're likely weighing options for how to address an upcoming election. We know how challenging it can be to teach responsibly in an election year, and we'd like to help. We've taught election units in different time periods and in different places around the world. We've taught with teachers who share our political beliefs and with teachers whose beliefs differ, or whose parent population has vastly different political affiliations than those of the teachers. We've learned that our job is not to teach kids how to vote, or what political party to support. We do want to teach them what political engagement looks like—how people investigate the big issues in play, how they study candidates and parties, how they get involved locally or nationally. We also want to teach kids to explore the history of voting, including who has been enfranchised and disenfranchised, and what work remains to make democracy more just. Our hope is that this guide will give you the tools you need to help your students engage with the electoral process, to help them see their role in how we choose those who serve in our government now and in the future.

Perhaps you're designing a grand election unit every four years, one in which kids track politicians and parties, and trace the big issues and the candidates' positions on those issues; perhaps you'll even have a mock election. Or perhaps you'll want to include a strand in your curriculum that studies breaking news and the electoral process in action. The suggestions in this guide can form the basis of an election unit, or you can use the suggestions as necessary to address particular issues and ideas as they arise. We've included essential questions as well as specific teaching ideas that tailor the core ideas in The Civically Engaged Classroom to the unique challenges of teaching responsibly during an election. Follow us on twitter at @MaryEhrenworth, @MarcToddNYC, and @PabloWolfe for additional timely useful resources.


All the best,
Marc, Pablo, and Mary
Want to learn more about 2022 national, state, and local elections? Check out Ballotopedia. "Ballotpedia is a nonprofit and nonpartisan online political encyclopedia that covers federal, state, and local politics, elections, and public policy in the United States."

This blog has been updated for 2022.