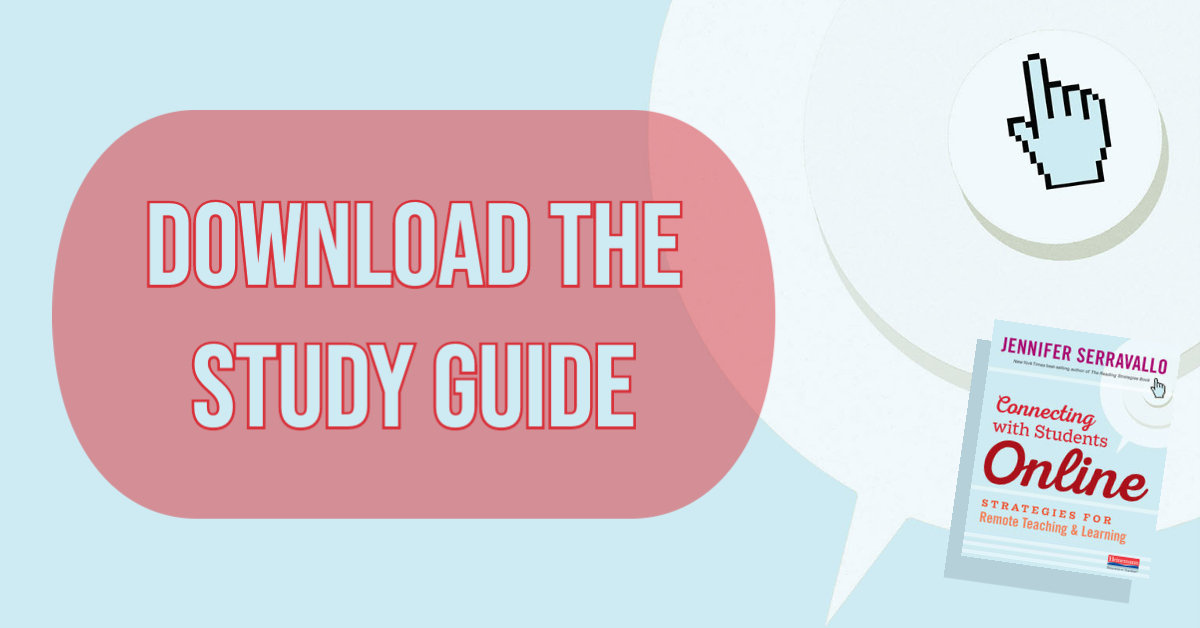 Jennifer Serravallo's Connecting with Students Online is providing practical support for educators around the country. For administrators it provides a path forward for improving the quality of remote instruction school wide. For individual teachers it answers their tough questions about digitally based teaching with immediately doable instructional strategies. Now, this free Study Guide provides coaches and instructional leaders with helpful suggestions for staff book study and individuals with ideas for getting the most from Connecting with Students Online.
To give you a sense of what's in the study guide, here's an excerpt from its introductory pages.
Whether your students alternate between being in front of you (masked) in a brick-and-mortar classroom and learning from home connected to you online, or you are teaching cohorts of children in person and online simultaneously, or your students are fully remote, you offer consistency and predictability and shelter through this storm.

Teachers are being asked to do the impossible, working longer hours than ever in conditions that are far from ideal. Working alone from your home, or in person but from a distance, can feel isolating. It's essential, therefore, that we take time to work with colleagues to both help us be effective when teaching in never-before-tried formats and structures and to bolster us emotionally.

It may feel like there's no time, but my promise to you is that not only are the activities in this study guide worth the time but also that the ideas in Connecting with Students Online will save you time once implemented.

The book was designed with the busy teacher in mind—each of the fifty-five-plus teaching strategies can stand alone or work in combination with the others. Read the whole book in one sitting if you wish, or scan the table of contents and dip into the chapter that matches what you most want to work on. There are video examples for many of the ideas—watch them alone or in the company of colleagues. Discuss the ideas or practice them together. Work through an idea in a short period of time over lunch or take time and study an idea over time. The choices are yours, and the ideas in this study guide are adaptable to your needs.

Every idea in this guide is coded with symbols to help you scan and quickly find strategies and activities to match your goals, the time you have, and the type of activity you'd like to engage in. Choose them based on the amount of time you have (one session or multiple sessions), the type of activity (discussion, make and take, or with students), and the component (planning, scheduling, or teaching ). You'll likely choose different activities at different points in the year or as different needs arise. Or, choose one or two in each chapter as you study the entire book together.

Just as we aim to teach students responsively based on their needs, this guide (and the book!) are set up to respond to your needs with ideas and practices to help you excel, connect, and engage.