When Lucy Calkins and her colleagues were first sharing details about the current Writing Units of Study series, they fielded a lot of questions on why they decided to include an entire unit on writing poetry in second grade. They were perplexed. They expected to get the question, "Why not include a unit on poetry in every grade?" (Incidentally, there is a poetry unit in every grade included in the If…Then…Curriculum book.) But perhaps with so much emphasis on raising test scores and meeting standards, it can seem frivolous to spend an entire 4-6 weeks on poetry.
There are many reasons to dedicate time to a study of poetry, and not just because April is poetry month. First, poems can be wonderfully rich texts, packing stunning examples of craft, symbolism, and literary techniques into a few lines of text. As Lucy and her co-authors write in the introduction to the poetry unit, "Poetry reminds us to slow down and read every word, ever pause, to listen to what is said and how it is said." Close reading of poems provides an accessible introduction to close reading of longer texts.
Also, writing poetry provides children opportunities to take risks in their writing, to try the same techniques they admire in the poems they've read. In the same way that reading poems provides an accessible way to try higher level work students can transfer to longer texts, writing poems is an accessible way for students to practice higher level moves they can call upon when they write longer pieces.
Further, nowhere is the connection between reading and writing more apparent than in a study of poetry. In carefully pouring over every line, every word, every nuance of their own writing, students learn that nothing in writing is accidental, and that each part of a text could merit interpretative work. At this week's TCRWP Twitter chat, staff developer Mike Ochs will lead a discussion on ways to infuse poetry into reading and writing work. Join to hear and share ways to celebrate poetry, this month and always.
---
Each Wednesday night at 7:30pm eastern, The Teacher's College Reading and Writing Project hosts a Twitter chat using the hashtag #TCRWP. Join @readwritemike to chat about infusing poetry into reading and writing tomorrow evening.

Not on Twitter? Take Heinemann's free Twitter for Educators course here.
---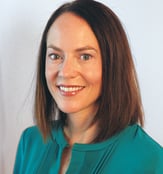 Anna Cockerille, Heinemann Editor and Coauthor of Bringing History to Life (Grade 4) in the Units of Study for Teaching Writing Series, was a teacher and a literacy coach in New York City and in Sydney, Australia, and later became a Staff Developer and Writer at TCRWP. She also served as an adjunct instructor in the Literacy Specialist Program at Teachers College. Anna has been a researcher for Lucy Calkins, contributing especially to Pathways to the Common Core: Accelerating Achievement (Heinemann 2012), and the Units of Study for Teaching Reading, Grades 3–5 series (Heinemann 2010). Anna is currently serving as an editor on the forthcoming Phonics Units of Study series for grades K-2, and previously served as an editor for the Units of Study for Teaching Reading, K–5 series.
Follow her on Twitter @annagcockerille