Comprehension: Making Meaning Matters
Thanks for reporting a problem. We'll attach technical data about this session to help us figure out the issue. Which of these best describes the problem?
Any other details or context?
message
Three weeks ago we started an online conversation around Jennifer Serravallo's (@JSerravallo) 5 lenses for assessing and teaching readers using the hashtag #literacylenses. We discussed engagement during our first week, including methods of assessing engagement in students and classrooms. Then we moved on to the different aspects of fluency: automaticity, intonation/expression/prosody, phrasing/parsing, emphasis, and pace. Last week we talked about print work/decoding. Our goal is to cover one lens each week, followed by a recap. We will be providing you with some of the assessment tools we highlight as well as strategies to help you teach.
This week we are going to focus on the fourth piece of the puzzle: comprehension. To truly read is to uncover meaning within a text, understand what the author is saying and have your own reactions and responses. We will be posting tips, tools, and strategies from four of Jen's books: Conferring with Readers,Teaching Reading in Small Groups, The Literacy Teacher's Playbook K–2 and The Literacy Teacher's Playbook Grades 3–6.
We have created blank versions of some of the tools Jen discusses in her books for you to download and use in your classrooms. Scroll down to the bottom of this post for both Microsoft Word and PDF versions of the tools from week 1 (engagement) and week 2 (fluency).
If you're on Twitter, we are using the hashtag #literacylenses to capture the conversation from beginning to end. We'll see you there!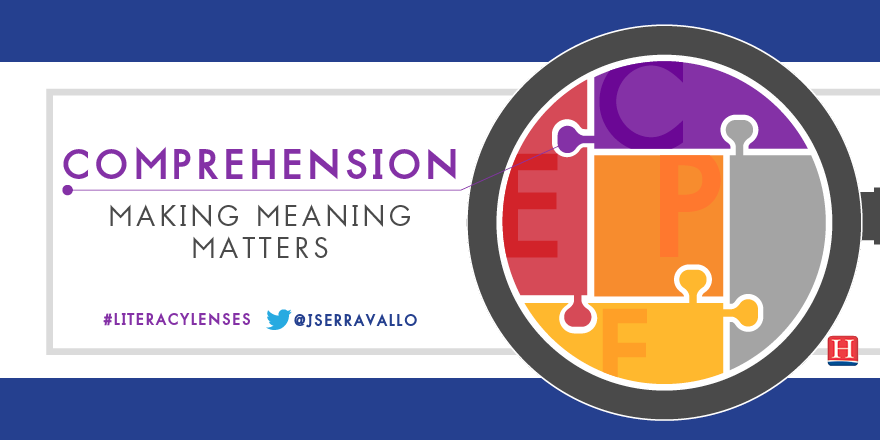 Jennifer Serravallo is a national literacy consultant and the bestselling author or coauthor of the Heinemann titles Teaching Reading in Small Groups, Conferring with Readers, The Literacy Teacher's Playbook K–2 and The Literacy Teacher's Playbook Grades 3–6. She started out teaching grades 3–5 in Title I schools and then spent eight years as a national staff developer at the Teachers College Reading and Writing Project.