While each of these provides an important piece of the puzzle, you will get the clearest sense of a student if you use all 5 lenses. Whatever challenges you face, Jennifer Serravallo can help you with the skills and strategies you need to turn your students into proficient, lifelong readers.
If you want to catch up on the conversation, you will find links to each of the individual lenses at the bottom of this post. If you're on Twitter, we have been using the hashtag #literacylenses to capture the conversation from the beginning.
We have created blank versions of some of the tools Jen discusses in her books for you to download and use in your classrooms. Scroll down to the bottom of this post for both Microsoft Word and PDF versions.
Jennifer Serravallo (@JSerravallo) is the author or coauthor of five Heinemann titles: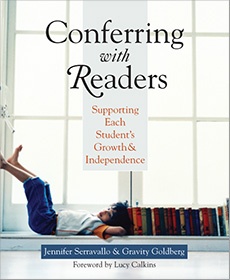 Conferring with Readers shows you how to confer well and demonstrates why a few moments with students every week can put them on the path to becoming better, more independent readers. Conferring with Readers is a comprehensive guide that shows you how to determine what readers have learned and what they need to practice, then provides suggestions for targeting instruction to meet students' needs. It provides explicit teaching methods for use in effective conferences.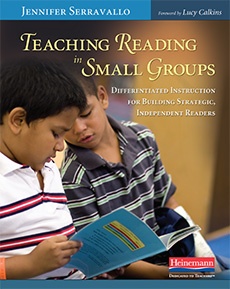 In Teaching Reading in Small Groups, Jennifer Serravallo extends the powerful teaching that made Conferring with Readers a hit and helps you meet instructional challenges effectively and efficiently.
Jen shows how small groups help you uncover hidden time in your teaching for meeting individual students' needs.
You'll see how Jen captures the strength of individual conference while working with multiple students—even if they aren't reading the same book. For comprehension, fluency, engagement, print work strategies, and comprehension, she shares ideas for assessment and flexible grouping structures as well as her own teaching language.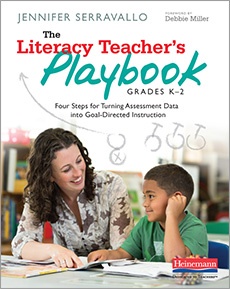 "I wanted to write a book that helps you really see your students," writes Jennifer Serravallo. From a kindergartner's loops and pictures to a second grader's reading log, her Literacy Teacher's Playbook details exactly how she comes to understand them deeply and meet everyone's literacy needs—and the standards. Her workshop-in-a-book shares a powerful approach to assessment, planning, and teaching. Go beyond curriculum to develop differentiated reading and writing goals then plan targeted instruction.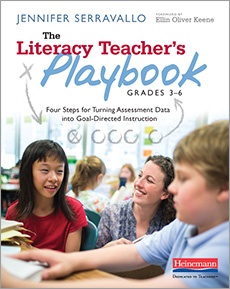 "The aim of The Literacy Teacher's Playbook," writes Jennifer Serravallo, "is to help you collect data that is helpful, analyze the data correctly, and make plans based on that data." National and state standards set learning goals, and it's up to you to help each student find his or her path to meeting them. That's why Jen opens up her thinking on assessment in this workshop-in-a-book.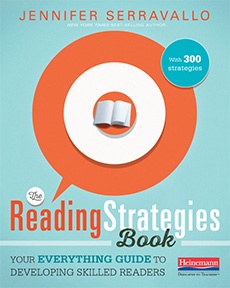 Whether you use readers workshop, Daily 5/CAFE, guided reading, balanced reading, a core reading program, whole-class novels, or any other approach, The Reading Strategies Book will complement and extend your teaching. Rely on it to plan and implement goal-directed, differentiated instruction for individuals, small groups, and whole classes.
Jennifer Serravallo is a national literacy consultant and the bestselling author or coauthor of the Heinemann titles Teaching Reading in Small Groups, Conferring with Readers, The Literacy Teacher's Playbook K–2 and The Literacy Teacher's Playbook Grades 3–6, and The Reading Strategies Book. She started out teaching grades 3–5 in Title I schools and then spent eight years as a national staff developer at the Teachers College Reading and Writing Project.
FULL SERIES:
1 - Engagement
2 - Fluency
3 - Print Work
4 - Comprehension
5 - Conversation