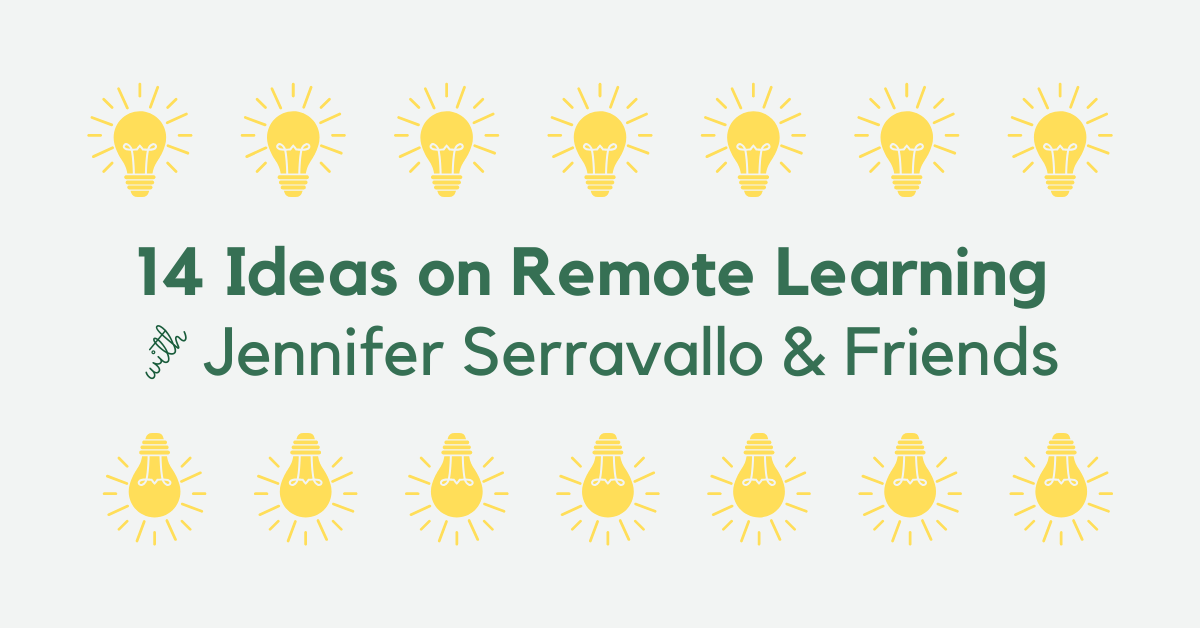 Are you teaching remotely ? Jennifer Serravallo has shared numerous helpful ideas in the Reading and Writing Strategies Facebook Community, in this Facebook Live, and on the Heinemann Blog (here and here) that can support you while you teach from home.
Jen has taught teachers online for years. Below, we round up her ideas, those shared in her interview with educational-technology experts Kristin Ziemke and Katie Muhtaris, and others into an FAQ that will help you get going or keep moving forward with your students.

1. What supplies do my students need during social distancing?

From Jen: "There are a few essentials. If you're still in school, fill their book bags with great books from your classroom library before they go into self-isolation. Make sure they have writing paper and pens or pencils. Maryanne Wolf, UCLA researcher and neuroscientist, advises that through fourth grade, students do better when they are working with real books and real writing supplies. (Listen to my interview with Maryanne on the Heinemann Podcast for more.) Finally, be sure that each student has a device. You may need to advocate for some of your kids who don't have a device or broadband internet at home.

"A few more items have proven especially valuable as I work with my kids at home. You can recommend them to parents as appropriate. A timer has saved my life. My seven-year-old really does her work for the length of time it says, and it keeps her focused. Sticky notes are key. I used them to flag pages during read alouds or small groups. Students can use them to jot ideas or cover up mistakes so they can have another try. For families who can afford it, a printer is helpful. I am printing out paper with lines and boxes that look like the paper my first grader has in class. Parents can print out packets as necessary or mentor texts. A clipboard lets kids take their work anywhere. A basket gives them a place for all these supplies to go inside and stay organized. Basically, create a "writing center" or "materials depot" where they can grab anything they need for learning. For math, marbles or other math manipulatives, a ruler, and some base-ten blocks are important."

2. What's the first thing I need to do to get started with distance learning?

From Kristin Ziemke during Jen's interview with she and Katie Muhtaris: Create a quick Google Form or Survey Monkey to send out to families to first double check contact information and then ask who has access to the internet and whether there are devices at home for students' use.

3. How can I get going with new online tools for remote teaching and learning?

From Kristin: "Start with one or two new things. Play around with those for a period of time. Just like kids have to develop fluency in reading or with math facts, we need to build some fluency with tools. So try two things then try two more things."

4. Is there a model schedule I can suggest parents use for a "typical" day in remote learning?

From Jen: "With my first grader, I'm aiming to KEEP IT SIMPLE by connecting reading and writing strategies as best you can. Here's an example from one day:

"SCHEDULE: Go at your own pace, choose the order in which you work, check off as you go. Take breaks when you need them. Use the time timer to keep track. "READ: Read for 30 min. Flag the beginning, the middle, and the end, and retell. (Strategy 5.3 (c)2015 The Reading Strategies Book) "WRITE: Write for 30 min. Write across three pages with a beginning, middle, end. (Strategy 5.2 (c)2017 The Writing Strategies Book)
"MATH: Solve story problems with marbles. Retell how you solved the problem with the beginning, middle, end (Sentence starters "First I...next I...finally I" help with retell).
"PARTNER TIME: Zoom call with the cousin, reading Piggy & Gerald books (or any similar books). We used a video of a read aloud, did a screen share, and muted it; one read the part of Piggy and one read the part of Gerald. Together they retold what happened when they finished the book.

Here's why I chose this schedule:

• We are basically practicing the same thing all day. The reading strategy is being applied to math, and the reading and writing strategies are like "flips" of each other.

• This is largely independent, I spent just a couple minutes explaining and practicing each strategy before she used the remainder of her time working independently.

• This work fits her personally, it's what she needs most right now.

• Tech is used for connection; she's not doing her reading and writing on-screen.

• We are fortunate to have a lot of books and plenty of paper in our house; those who work with kids without these supplies might consider having them available when and where free lunches are distributed.

• Those who work with kids who don't have a tablet or computer could perhaps do this by phone. Those without phones could perhaps mail a letter each week with their reading and writing strategy for the week.

• I'll also read a book to her (but a teacher could send a link to a recorded read aloud, assuming families at home have a way to play it), and I think we'll bake some cookies this afternoon (and notice the sequence of steps in a recipe!).

• I was thinking today that our district has a TV channel that they use to broadcast the Board of Ed meetings -- maybe that could be used for teachers to read aloud to kids who don't have their own devices?

5. How do I make the most of online instructional time?

From Jen: "Connect as many goals, skills, and strategies as possible. For example, connect reading and writing goals such as print work (reading) to spelling (writing) or vocabulary (reading) and word choice (writing). Plot & setting (reading) connects well with organization/structure and with elaboration (writing). And here's something really important: Work on one thing over time. Don't try to cram it all in, especially when you're not there to monitor progress as frequently. Pick one goal to work on and a couple strategies that you can show them online."

6. What do good online lessons look like?

For those of you recording lessons (or doing them live on screen with students), here's a great, short video from Maggie Roberts.

7. How do I know what strategy or strategies to pick for a student?

From Jen: "Start with the goal they are working on and connect reading and writing if possible. The Reading Strategies Book and The Writing Strategies Book are organized and color-coded according to goal. That's the most important thing to know. Then use the navigation tools in the margin of each strategy to match your student's needs. In The Reading Strategies Book match the Fountas & Pinnell level of the books the child reads, the genre the strategy supports (fiction/nonfiction) and the specific skills it addresses. In The Writing Strategies Book you'll find grade level, what part of the writing process it's designed to support, and the specific skills it addresses. They're all good strategies, so even if you don't pick the perfect strategy, it'll be OK. Remember that this is all new to us, so do your best, and don't let the unprecedented nature of this situation paralyze you. Take it one day at a time."

8. What do I do about read-alouds?

From Jen: "First, this is a great opportunity to get parents involved. Students, especially younger students, need to be read to every day if possible. Second, video conferencing software makes this possible to do with your entire class or with small groups. These apps often have screen-sharing that enables you to share the read-alouds that many children's book authors are doing on YouTube. Third, if you have The Reading Strategies Book, check out the prompts that accompany each strategy. Although they were written for use with individual students or small groups, they make PERFECT questions to stop and ask during read-aloud time."

"Some of you may have also seen various authors kindly granting permission. TECHNICALLY it's the publisher that needs to grant permission, and here is a collection of some publishers' official statements on the matter during this crazy time we all find ourselves in."

9. How do I differentiate while teaching online?

From Jen: "Make a plan for each student that matches their learning style and KEEP IT SIMPLE. Give students more structure or flexibility depending on their typical needs and adjust as necessary. Consider scheduling one-on-one conferences (via video conferencing software like Zoom or even by telephone) or small-group conferences to offer strategies, check in with students, and give feedback."

10. How do I help children stay motivated?

From Jen: "Take lots of breaks, and, with parents' help, get them outdoors to get some fresh air. Without the social interaction and movement within the classroom that kids are used to, don't be surprised if they need more frequent breaks at home. Also keep in mind that students will likely need less time each day to get a "day's work" done than they need in school. Two hours or so at home is usually enough. Also check yourself and your students for stress and remind yourself and them that we are in unprecedented times. Take it easy and do your best."

11. How about our youngest learners? What should I focus on with them?

From Jen: "The focus with kindergarteners should be on the joy of reading and writing. They need to read and write every day. They need choice about what books to read or have read to them, and they need to make books every day. Children will learn a lot through their play, and it's important to keep up social interaction with peers through video chats."

12. What are some ways to keep a sense of cohesion and stability for my class?

From Kristin: "One idea is to do your morning calendar routine with students online. It is calming for students to hear—you're still there, they can see you, you didn't disappear. Even small things like that."

13. How do I, the teacher, keep from feeling isolated during social distancing?

From Jen: "Connect, connect, connect! Use video conferencing tools if at all possible when you work with kids. Make sure they see your face so that you can maintain the connection you've built with them since September. Connect with parents because they need support too. And be sure you connect to your own family, friends, and professional networks so that you feel the love and support you'll need during this unprecedented time of isolation.

14. How do I keep parents informed about what's going on in the virtual classroom?

From Kristin: "Establish a clear line of communication and where parents should look for information: School Messenger, school and district websites, and email. Give families one or two options so that they are not overwhelmed, and neither are teachers and educators."

In general, Jen reminds us that we are in unprecedented times. All we can do is KEEP IT SIMPLE, teach as best we can, and take it one day at a time. Connect with students, collaborate with their parents, and adapt the best that you know how to do to the situation we're all in together. Remember, great teaching is great teaching no matter where or how we do it.